Initially I planned to write about the perfect coat for every occasion seeing as the weather here in Arizona has finally decided to cooperate. I mean I can only imagine how many southwest fashionistas will be shivering come the weekend being caught completely off guard by the 30 degree temperature drop. However, ther is one news story that seems to be dominating the fashion world that I think is worthy of sharing here. If you haven't already heard, Nicolas Ghesquière has decided to leave Balenciaga.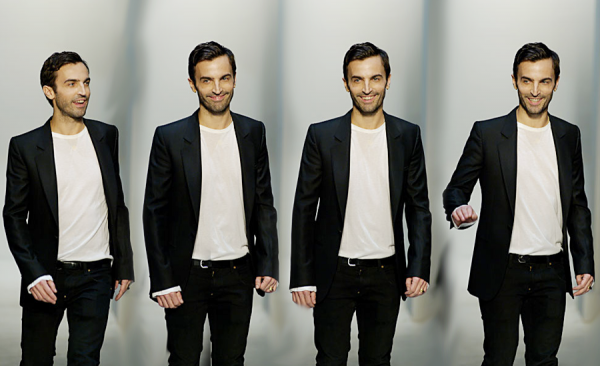 This is of course unfortunate news after Twilight star Kristen Stewart looked über fabulous in this white Balenciaga midriff baring top and tuxedo pants for her On The Road screening in Hollywood.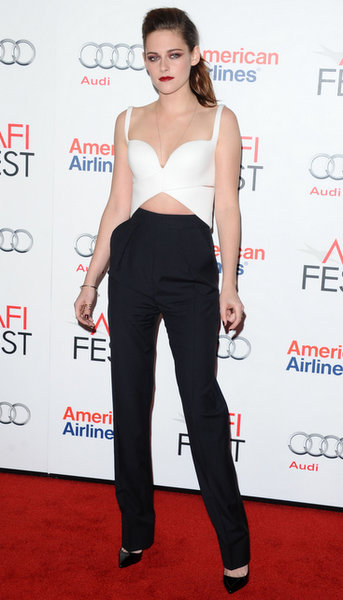 Starlets aside, the details of the departure are few and rumors like a lack of creative freedom are abuzz. Wmn's Wear Daily notes the potential validity of such rumors and talks to PRR about the future:
The news came only a month after Ghesquière staged one of the most widely praised shows of the spring fashion season — and amid rumblings that the relationship between the designer and management had, after 15 years, soured and reached an impasse. For several years, Ghesquière was said to resent what he felt was a lack of support and funding for the brand — only exacerbated by increasing friction with new chief executive officer Isabelle Guichot. In addition, resources committed to Hedi Slimane and the reinvention of Saint Laurent, while not a primary cause of Ghesquière's departure, added to the tension.
PPR is believed to have been pressing for a more commercial direction at the house, which it had long seen as having the potential one day to rival Gucci and Bottega Veneta in sales volume.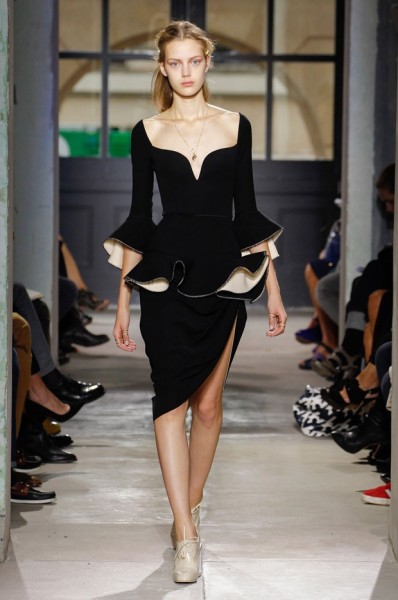 "With an incomparable creative talent, Nicolas has brought to Balenciaga an artistic contribution essential to the unique influence of the house," François-Henri Pinault, chairman and ceo of PPR, parent of Balenciaga, said in a brief press statement. "Cristóbal Balenciaga was a master, a genius whose avant-garde vision dictated fashion's greatest trends and inspired generations of designers."
Guichot told WWD a successor would be named "as soon as we're ready."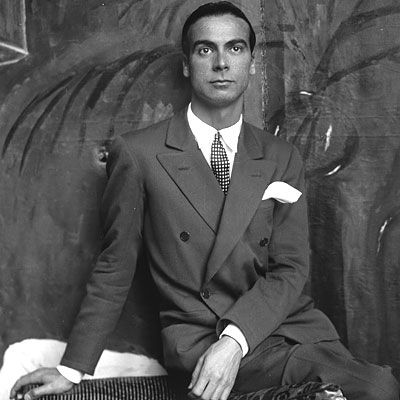 "We have a short list," she added, declining to identify potential candidates or give a deadline for making an announcement.
"My biggest interest is to focus the organization, accompany the team and develop the brand potential, so it's in my interest to do it as soon as possible," she said.
Guichot characterized the forthcoming change of creative leadership as "part of the life of a fashion house" and that Balenciaga and Ghesquière agreed, after discussions of long duration, to open "new chapters" in their respective development.
"We have huge ambitions and we have huge reserves of growth," the executive said. "Year-to-date, we're still at double-digit growth."