From the start of her career Chloe Sevingy has been somewhat of an enigma, her unconventional beauty and cooler than thou fashion sense landed her an internship with the now defunct Sassy Magazine, which then led to a Jay McInerney article in The New Yorker dubbing Chloe the new "It" girl of the moment. From there Sevingy landed roles in indie films prior to her amazing performance in Boys Don't Cry and the rest as they say, is history.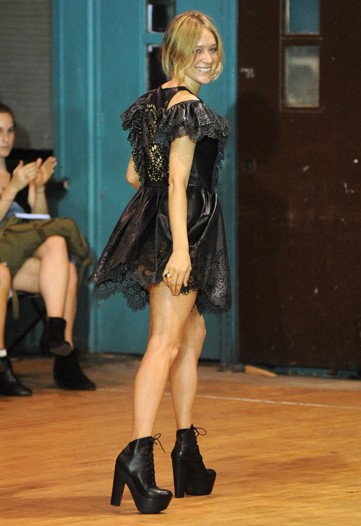 But Sevingy unlike other starlets being transformed into stars has never lost her sense of self and has remained true to her individual style regularly winning praise from Fashion Editors around the globe. So, it was a natural evolution for Sevingy to create her own designs, a feat that she took on four seasons ago with the New York favorite Opening Ceremony.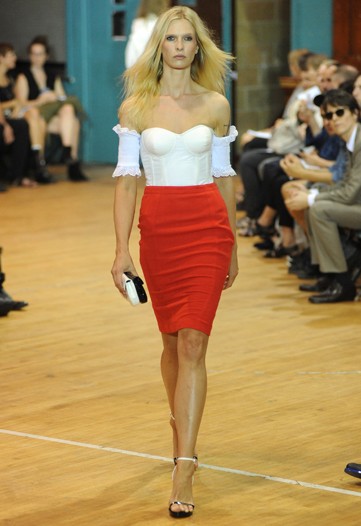 And now with a cult following in full force the partners thought the time was right to take these looks onto the runway.The brand showed their Resort Collection to a packed house on Tuesday night in the gymnasium of St Patrick's Youth Center on Mott Street in downtown Manhattan. The uber hip crowd was packed into folding chairs and treated to an odd nativity scene (an art installation) by artist Charles Wing. The middle school-esque setting played well again Sevingy/OC take on the 90's streetwear style (perhaps an homage to one of her first roles in the movie Kids).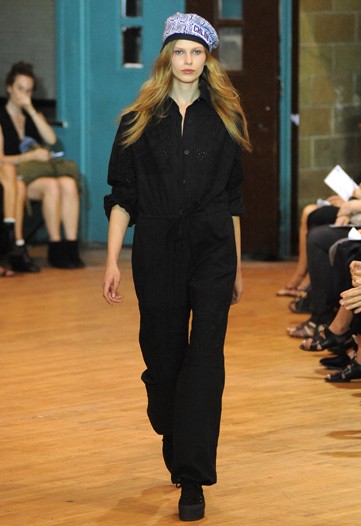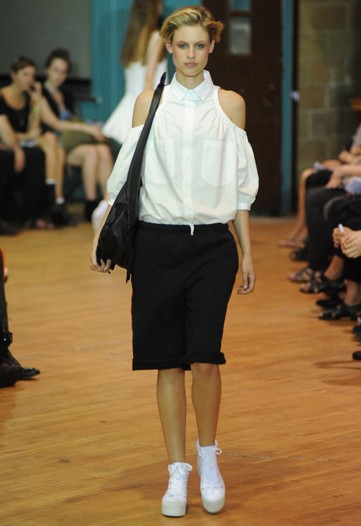 Looks ran the gamut from good girl dresses in white eyelets to casual day wear and bad gal black leather with laser cut details. There were smatterings of red from sexy swimwear to pencil skirts and billowing shirts and skirts that looked red carpet worthy. And of course who doesn't love a varsity jacket when it's done in a cool girl way. The show also introduced two new collaborations within collaborations: logo-printed pieces were created with Nineties skate label Vision (Vision Street Wear x Chloë Sevigny for Opening Ceremony) and sunglasses (Barton Perreira x Chloë Sevigny for Opening Ceremony).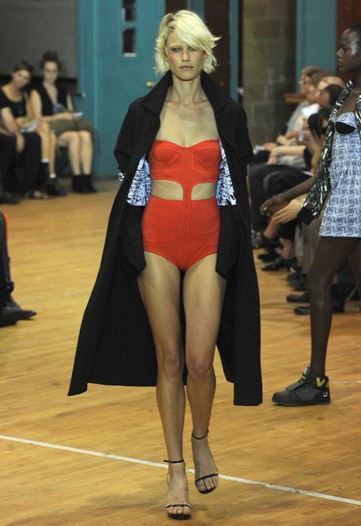 From WWD:
The whole thing was a lot of work. "I think maybe Humberto [Leon, Opening Ceremony's co-founder] shields me from all the business aspects so I didn't even know the ins and outs and nuts and bolts of how it happens," said Sevigny before the show. "It's like, 'Oh, I want a polka dot dress and now here it is.' I'm sensing a lot more of the process here. I can't believe people do this four times a year. I have nothing but admiration and respect."