Okay seriously, what is going on? At some point yesterday I suddenly started to feel like a camera crew from Candid Camera (old school) or Punked (newer school) was following me. Do you ever have those days? I can't pinpoint exactly when it was that things started to feel strange… the day started off swimmingly with an amazing photo shoot overlooking Camelback Mountain, then of course there was that Salted Caramel Hot Chocolate from Starbucks that I swoon over and mention often on my twitter page. Then there was that amazing meeting where I had the chance to look at the film from a recent photo shoot with one of my new favorite celebrities. Really this girl could not be more of a doll… and talk about working it for the camera… she practically melted the lens! And even still when I took the dog to the Wag & Wash things were still going well…. But some time after that this alter universe began… and it seems has lasted into today.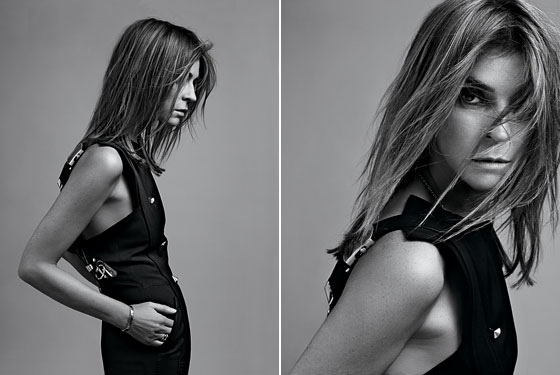 First I wake to find that my fashion idol, my to die for muse is leaving her post at French Vogue. Yes that's right after ten years of steering the ship Carine Roitfeld will be stepping down. In just a mere few weeks CM will move aside to work on personal projects…. Well, that is a bitter pill and extremely hard to swallow! I am more than curious to see who will take her place.
"It's 10 years that I'm editor of the magazine, I think it's time to do something different," Roitfeld told Cathy Horyn at the New York Times. "When everything is good, maybe I think it's the time to do something else." No, no Carine say it isn't so…. I wonder if French Vogue will bring back the now notorious Anna Della Russo for an interim stint while they find a permanent replacement for Carine? Emmanuelle Alt FV Director of Fashion is rumored as the possible replacement.
And speaking of rumors, let's talk about Mark Badgley and James Mischka who have named the interestingly odd offspring of Demi & Bruce – Rumer Willis to be the face of their eponymous brand.
Rumer Willis commented:
" I was thrilled and honored to be chosen to represent the Badgley Mischka brand. Working with Mark and James is an incredible opportunity."
Mark and James said of Rumer:
"We adore Rumer. She is glamorous, youthful and fun. Rumer captures the spirit of all of our spring collections, especially our newly launched Mark + James collection."
The Spring 2011 Badgley Mischka's campaign will be released in the March issues of fashion magazines.
Okay, so it's not that I dislike Rumer… in fact I think she's a pretty good actress, but in the grand scheme of things she doesn't necessarily make me want to buy a Badgley… just yet anyway….. Still I am wondering, who exactly does she appeal to? And who is the client that James and Mark are going for with this campaign? More importantly, is her stepdad punking me?