The 84th Annual Academy took place on Sunday night celebrating the best and brightest in Hollywood.  I for one was terribly happy to see Billy Crystal back as the host… after the James Franco debacle… 
This year I was even more happy to see some stylists going ever so slightly out of the safe zone by dressing their clients in beautifully detailed looks. In fact there were so many gorgeous dresses that I had a hard time narrowing down my best dressed picks.
When I saw Jessica Chastain in that breathtaking black and gold Alexander McQueen my jaw just dropped… Did she not look like a Pre Raphaelite  painting that should be hanging in the Louvre'? Those ginger locks of hair curled softly with pale and perfect skin and dramatic lashes… How perfect!  And how amazing that she brought her Nana with her… So refreshing and sweet.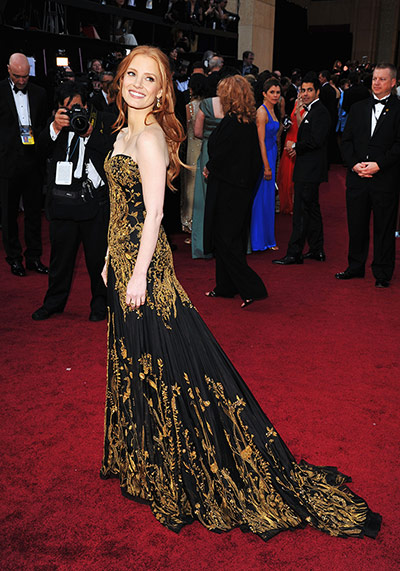 I had pretty much the same reaction when I saw Milla Jovovich in that silver one shoulder Elie Saab, Jacob & Co jewels paired with her classic Hollywood hair and red lip. Truly exquisite, sexy and even with the classic beauty details Mila looked so modern.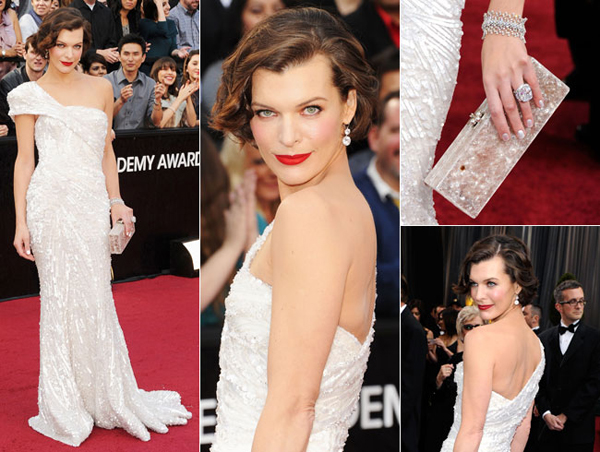 Michelle Williams was stunning in a coral tiered Louis Vuitton with that strategically placed diamond brooch.  I admit that I haven't been as excited about Michelle's choices since she wore that yellow Vera Wang back in 2006.  That perfect pixie crop of platinum hair just felt right with that very French looking dress.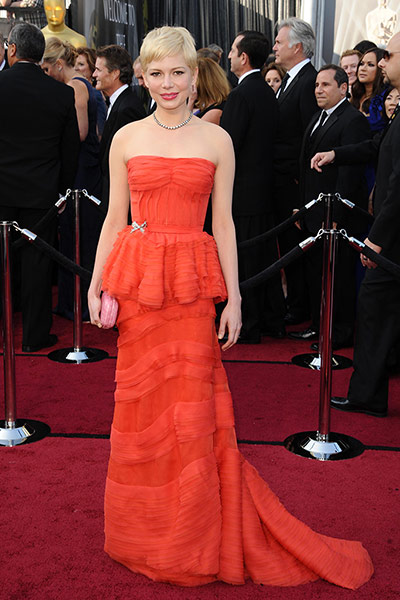 Rooney Mara looked amazing! The contrast of that stark black hair, blunt bangs, red lip and white Givenchy dress was a-ma-zing.  Again I felt like I was looking at a punk Audrey Hepburn or an alternative Pier Angeli with that delicate face and sinewy body… Apparently Mara picked out the dress on Sunday morning a risk that paid off!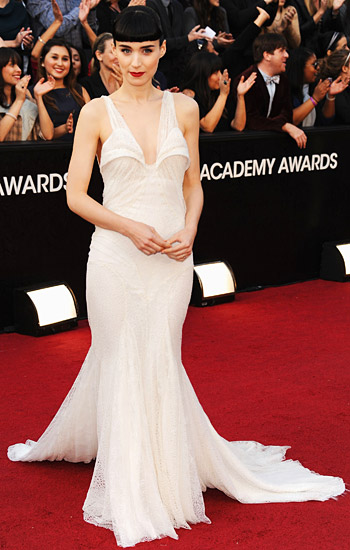 Emma Stone was once again a favorite of mine this time in a fuchsia Giambattista Valli tied with a pretty pink bow at the shoulder. Her polished hair and slick of cat eye liner were divine.  Thus far she hasn't had one single red carpet slip up… At least not that I have seen… Good for her.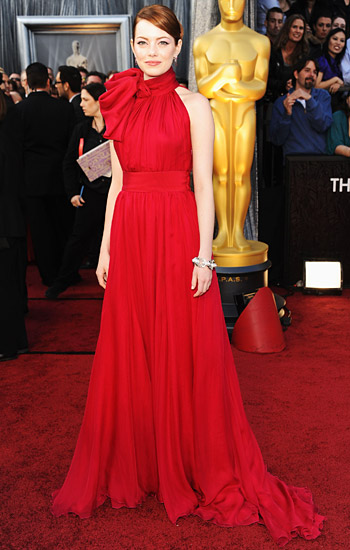 Honestly, I could go on and on… I just loved Octavia Spencer once again.  She wore an immaculately fitted gray and white Tadashi Shoji  with white beading and it just looked spectacular.  I was so happy she won .. A well deserved nod to her performance in The Help. Octavia gets it right… The hair, the makeup, the jewels…lovely all the way around.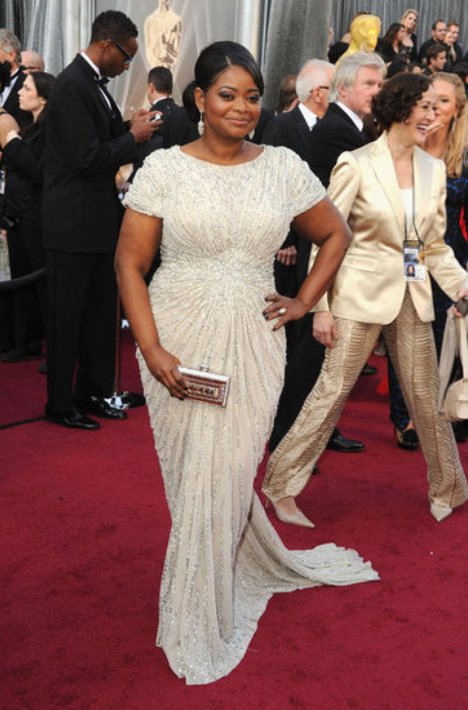 I would be remiss if I didn't mention Gwyneth in her white liquid like Calvin Klein, or Angelina once again for looking ridiculously unreal in a black Atelier Versace black gown with a thigh high split  and I have to give it up for Tina Fey… She wreaked of Hollywood glamour in a custom Carolina Herrera. Good for you Bossy Pants!