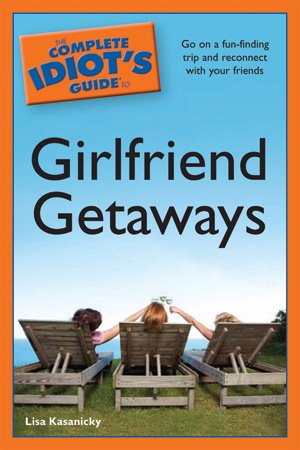 Aside from beautiful golf courses and resorts galore, if there's one thing Arizona is known for, it's the spas. But when you live in the Valley of the Sun, spa'ing can be overwhelming. Exciting since we have some of the best in the world, but overwhelming when you realize there's about 100 million to choose from.
Every now and then I try to post a few of the best spa packages and deals in town. But for a comprehensive list of any and everything to do with spas in Arizona, it's Lisa Kasnicky owner of Arizona Spa Girls.com, that's got every one of them covered.
This past week, the Spatress released The Complete Idiot's Guide to Girlfriend Getaways, your one-stop resource to planning the trip of a lifetime with your girls. All-girl trips are getting more and more common, after all we need time to decompress sans men, right?
Kasinicky clearly thought so and mapped it all out for you. In The Complete Idiot's Guide to Girlfriend Getaways, you'll find everything from tips on packing to historical trips and, of course, spa trips too. She even compiles shopping trips and details (think tips across the country on the best boutique and outlet shopping). Um, can you say "yay!"
If you're planning an all-girls getaway, this is one book you should not be without. And hey, it supports our local authors too and you certainly can't go wrong with that.
You can get The Complete Idiot's Guide to Girlfriend Getaways at:
Amazon.com
Barnes & Noble
Borders
Penguin
And more information about Lisa Kasinicky at lisa.kasinicky.com.
Here, more details about the book from the Web site:
*A crash course in travel planning—with smart strategies and wise advice from travel experts.
* Family-focused tips on preparing your partner and kids for the time you'll be away.
* Contact information for travel companies that cater to women.
* Girlfriend-to-girlfriend advice on packing and prepping.
Plan trips that revolve around things you really love, like …
* Power shopping
* Spa and weight-loss retreats
* Historical getaways
* Wilderness adventures
* Hiking, biking and climbing
* Volunteering
* Festivals and other special events
* Mystical experiences
* Leisurely pastimes
* Beach-going
* Cooking and eating
* Vegas!
Book Details:
* Title: The Complete Idiot's Guide® to Girlfriend Getaways
* Author: Lisa Kasanicky
* Paperback: 320 pages
* Publisher: Alpha (April 7, 2009)
* Language: English
* ISBN: 978-1592578214
* List Price: $15.95
* In-Print Editions: Kindle Edition (Kindle Book)