I spend a crazy amount of time checking out runway shows. As part of my job as a Fashion Editor I always have my eyes and ears to the street as to what's going on in the industry. And the same goes for makeup, but the beauty side of the business has become so saturated it's often hard to keep up. I find myself relying on my tried and true favorites for ideas and inspiration.
I certainly have not hidden the fact that after being in this makeup game for a coupe of decades there are brands I have tired of, new brands I have become a fan of and ones that I have stuck by and trusted again and again. Aside from Kevyn Aucoin, BECCA and Makeup Forever, Nars has been my go-to brand through thick and thin. I first discovered it within days of it's initial launch in 1995 and remember other artists talking about how they expected the line to be somewhat unwearable because Francois was such a bold artist himself… But to their surprise it was probably one of the most gorgeous lines they had seen…..and that sentiment has never died. Even now almost seventeen years later artists and regular ladies alike flock to the counters to get the latest lipsticks, shadows or product in the aptly named orgasm family.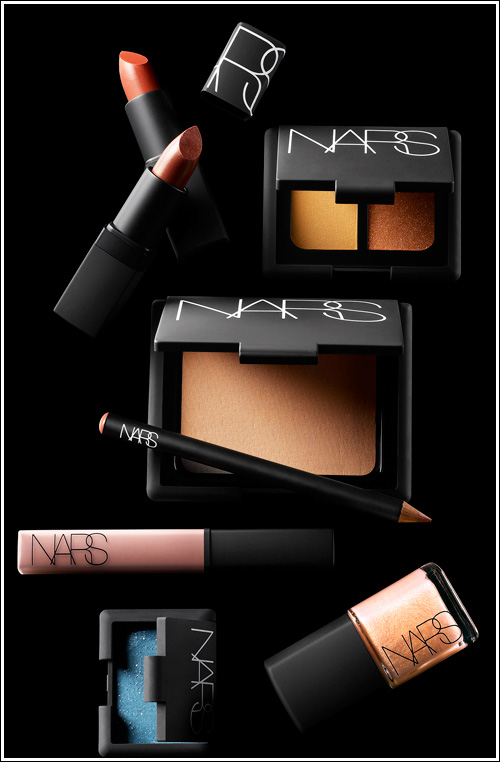 I can even remember coming back to Phoenix from New York with my Nars lipstick palette and a few carefully chosen shadows and one or two sticks of The Multiple. Every time I put Belle du Jour or Scarlett Empress on a models lips I got a barrage of "what's that, I love it"…. "I've never seen that brand". And of course… "cool packaging". Today you will see the line in just about every makeup kit and on the lips, cheeks and eyes of just about every major celeb. Why even Camille Grammar started an entire dinner conversation about Orgasm blush on The Real Housewives of Beverly Hills last season.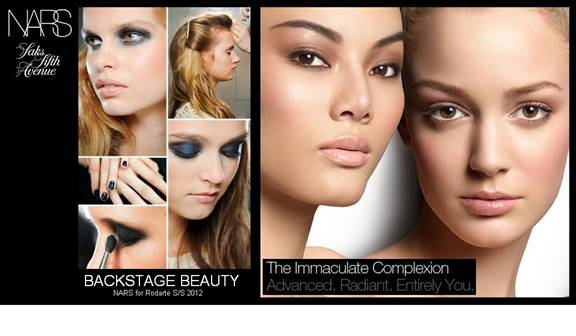 So why am I going on and on… All the better to prettify you my dear… You see this week Nars Saks Fifth Avenue location is having the end all -be all seasonal beauty event for just three days with the dynamic duo of Nars National Stylists Hank Hoffman and AJ Vasquez. These guys are masters at showing you how to translate the latest runway trends into wearable looks that will have you looking divine. And I can tell you that my girls at the counter Lillian and Cristina are second to none at treating you like a star … And making you look that way too! So don't miss this opportunity to try out the Immaculate Complexion products and the latest looks that Nars has in store.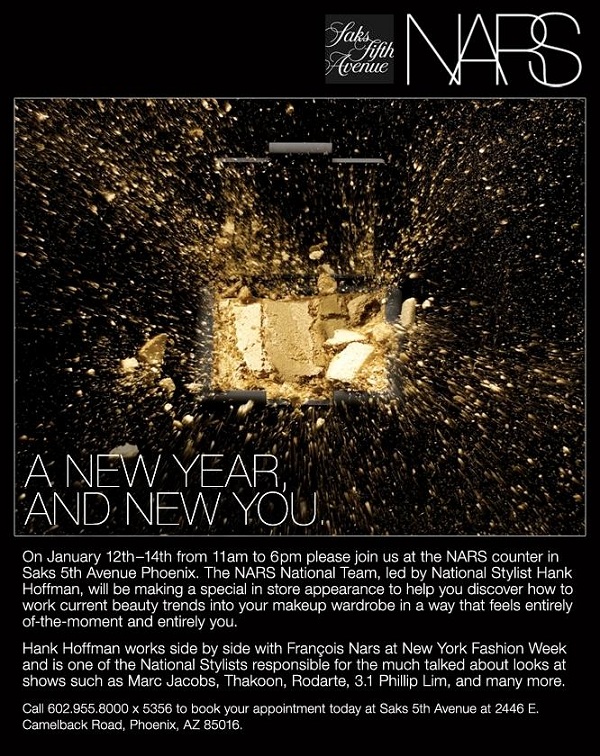 And even better pre-sell your order of at least $100 and you will receive a free Orgasm Illuminator as a gift… And stop by on January 12 and Saks electronic gift card has the perfect give back when you spend at least $250.
Electronic Gift Card throughout the store Thursday January 12th.
$PEND$OME GET$OME
$250 – $499 $25
$500 – $999 $50
$1000 – $1999 $100
$2000 – $2999 $300
$3000 or more $450
Please call Lillian and Cristina today at (602) 955-8000 ext. 5356 to book your appointment – space is limited.
By Diane Aiello