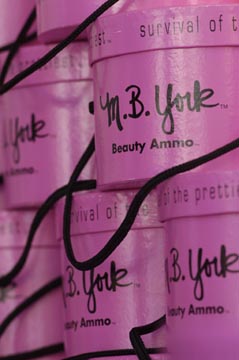 It's no secret that this week is action-packed with things to do. The FBR Phoenix Open is all weekend and we'll all be fair weather fans on Sunday as we tune in to watch the Cardinals in the Super Bowl Sunday afternoon. Yah, hell must have frozen over for that sentence to have been typed out….
So what's one more event to add to the list? This Thursday, January 29th, it's at Fleur't Boutique as the store is hosting a "Girl's Night Out" beauty event. Makeup, shopping, cocktails and appetizers? Yah, I'm so in. And P.S., the entire store is currently 40% off, hooray for shopping!
In case you hadn't noticed, the beauty/lingerie section of the store now has a Lip and Lash Lounge by resident celebrity makeup artist Mary Beth York prepared to beautify you before any night out. Mary Beth York will be in the store herself on January 29th, sharing her makeup tips and beauty secrets. Her makeup line, M.B. York, has been used on the sets of shows like "Dancing with the Stars," "Desperate Housewives," "E! Entertainment," "Pirates of the Caribbean" and more.
The celebrity makeup artist, esthetician and spa owner is quite the busybody and is also working on launching her all-organic skincare line. (In fact, the makeup maven was featured as one of the 10 Women Who Move the Valley in the January 2007 issue of Arizona Foothills.)
Mary Beth's self-named makeup line, M.B. York, all comes in hot pink packaging and cheeky names like her Paint by Number kit–a super easy-to-use set of eyeshadows that are color-coordinated and numbered according to whether you're seeking a daytime, in between or dramatic look–to sets like the Full Face Artillery kit which comes with everything a girl needs for an evening out or work look.
Perhaps her most popular, and the one that intrigues me the most, is her Beauty Ammo Kit. I'll admit, I've had it sitting in my makeup stash for quite sometime and have yet to try it, but it definitely seems supercool. The Beauty Ammo Kit is for camoflauging wrinkles, specifically those pesky lines around the eyes. In the kit you'll find a Collagen Eye Mask, Line Putty, concealer and two sponge applicators.
I'll explain: The Collagen Eye Mask is the first step in the process. Simply apply under the eyes; the collagen and shea butter in the formula hydrates and rejuvenates the delicate undereye skin. Next, apply the Line Putty over the Eye Mask to fill in lines. The final step in the three-step system is applying the concealer. Check out the online demo video for yourself here.