Getting dressed up is synonymous with the Holiday season. With countless holiday parties and family gatherings to go to, your hair and beauty routine is the easiest thing to change up your holiday look. Celebrity hairstylists spilled these styling how-to's to Allure magazine so you can easily recreate party-ready hairstyles from celebs like Gisele Bundchen and Michelle Williams that will make you look like you're about to walk down the red carpet yourself.
Deep Side Part With Voluminous Waves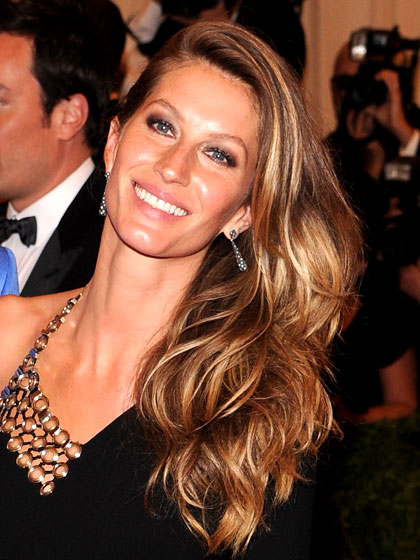 To recreate Gisele's gorgeous look, make a deep side part on the side your hair naturally falls toward. Then, comb a styling mousse, like John Frieda Frizz-Ease Curl Reviver Styling Mousse, throughout hair, blowdrying with a diffuser to ensure full volume. Once dry, wrap sections around a one-inch curling iron leaving a bit of the ends out. Gisele's stylist then spritzed her hair with her head upside down with Serge Norman Meta Revive Dry Shampoo to lend a "rough, pliable and matte" texture. Finally, tousle hair to desired texture and pin back with bobby pins.
Want to recreate Elizabeth Banks' sexy starlet waves? Hairstylist Adir Abergel first sprayed two-inch sections of hair with a light hair spray, then wrapped each section around a 1/4 inch curling iron before pinning each section into place. After the hair has set for a bit, release from the pins and delicately brush the curls out to create those glamorous Hollywood waves.
A Bedazzled Accessory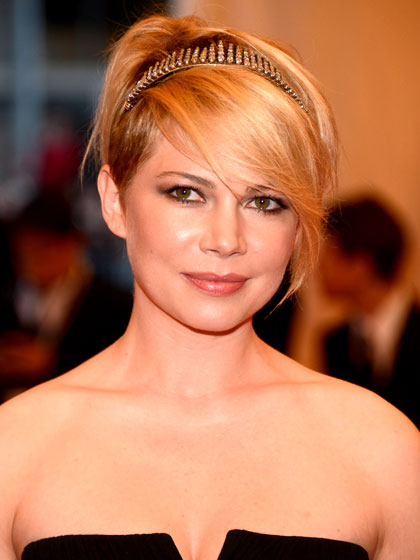 Michelle Williams's effortless pixie is easy to recreate. Tease hair, spray with a medium-hold hairspray, and simply add a glitter or rhinestone-embellished headband.
Be party perfect with a classic halo braid, seen here on Hayden Panettiere. First grab a large section of hair behind one ear (it doesn't matter which side). Celebrity hairstylist Matt Fugate advises: "Start French-braiding it against your head all the way up. You can hang your head upside down so gravity helps," he says. Continue to wrap the braid around your head, leaving two inches of space between the braid and your hairline. Pin the braid in place when you reach the opposite ear. "You want to add a healthy-looking shine at the end." Finish off with some hair spray.
For a pulled-together holiday updo, like Zoë Saldana's, hairstylist Kerrie Urban suggests first creating a deep side part and smoothing the hair over to one side. "Then starting at the hairline near your part, twist your way down, incorporating all of your hair and coiling it along your hairline down to the back," she says. While you go along, be sure to secure with bobby pins. "The key is pulling hair down, then twisting it up from the bottom," she advises.