We are just 5 days away from the New Year, which means if you haven't already then it is time to develop your fashion and beauty plan for December 31st (aka New Year's Eve). Most may be obsessed with finding the right dress, you know the one that will sparkle, shine, and make every girl jealous while simultaneously making every guy stare. And though this is definitely a top priority, you should also have a beauty plan in place. You don't want the big night to arrive and then realize that you have no clue how you want to do your hair and makeup… or worse that you completely forgot the manicure!
Because you have read this and because you will surely have a plan in place, today we are sharing a few fantastic NYE worthy DIY manicures.
The Glitter Fade via The Beauty Department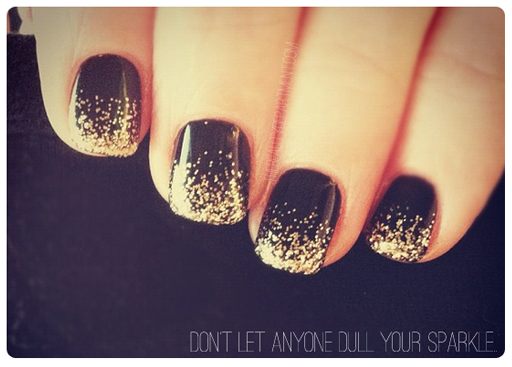 Photo: thebeautydepartment.com
1. Start with any polish color you want. We used black so you could really see how it's done. Let it dry really well. You can even put a thin topcoat over it if you want so it doesn't smudge when you add the glitter.
2. Using your dense glitter polish and a super-thin art brush, lay down a line of glitter polish at the tip of the nail. (Or you can do the moons if you'd rather.)
3. Using the thinnest art brush you can find, drag the glitter polish out carefully. You don't need to drag too much of the glitter because you want it to fade to almost nothing. Only go about half the length of the nail.
4. After you've dragged it out, go back in and lay down one more line of glitter polish at the tip to make it look more dense.
Add your topcoat right away. It helps the glitter lay flatter and settle better in my opinion. Get creative with color combos. I wonder if this would look good coming out from the sides if you have longer nails…? Don't forget to tweet (@tbdofficial) or instagram (@thebeautydept) us a photo if you try it out! Good luck and happy holidays, friends! xo
Silver & Gold Glitter Manicure via Love Maegan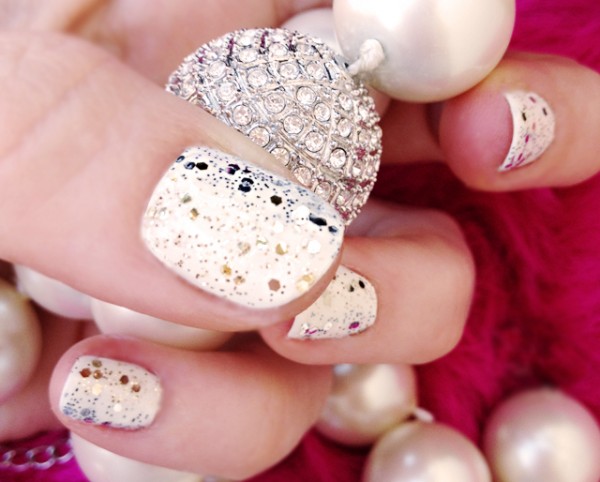 Photo: lovemaegan.com
What you need: Nicole by OPI – "Make U Smile," Sephora by OPI "Only Gold For Me," Chanel Extreme Brilliance, and White Nail Polish
1. 3 coats of white nail polish
2. 1 coat of chunky silver glitter on half of nail… 1 coat of chunky gold glitter on the other half.
3. 1 or two coats of your favorite top coat.
Confetti Nails via Chalkboard Nails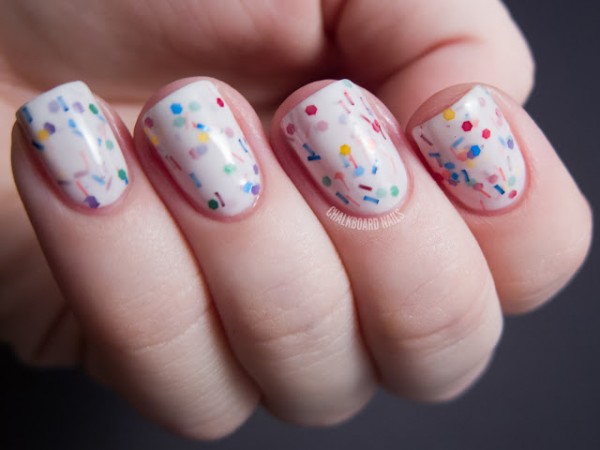 All you need is the polish… how easy is that? Check out all of the glittery reviews here.