Yes, this topic may be shallow and superficial, yet we are all somehow curious whom the masses consider the most beautiful woman on the planet. That was the very question Vanity Fair asked its readers on the cover of their latest issue, which features a naked Gisele Bundchen. Well the votes are in and despite Gisele's enticing photos, a queen, a first lady and other supermodels as her competitors; our favorite mother-of-six, Angelina Jolie takes the cake and 58 percent of the votes.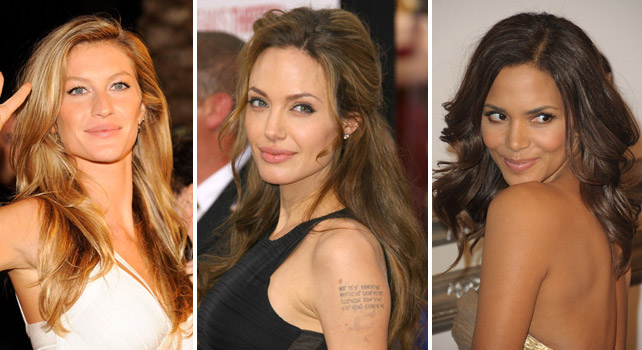 The highest-paid supermodel in the world from Brazil, Gisele Bundchen, who recently married football hunk Tom Brady, came in second with nine percent of the votes, followed by actress Halle Berry who received four percent of the votes. The score board read a five-way split for fourth place between Penelope Cruz, Jennifer Connelly, Scarlett Johansson, Queen Rania of Jordan and Bar Refaeli, with each receiving three percent of the votes.
Vanity Fair chose only 19 "modern-day Helons of Troy" whom they thought deemed worthy of this title.
"Of the billions of women on this planet, only 19, we believe, could start wars."
– Vanity Fair
Poll Results:
Angelina Jolie – 58%
Gisele Bundchen – 9%
Halle Berry – 4%
Penelope Cruz – 3%
Jennifer Connelly – 3%
Scarlett Johansson – 3%
Queen Rania of Jordan – 3%
Bar Rafaeli – 3%
Beyonce – 2%
Cate Blanchett – 2%
Catherine Deneuve – 2%
Freida Pinto – 2%
Natalia Vodianova – 2%
Ziyi Zhang – 2%
Kerry Washington – 1%
Gwyneth Paltrow – 1%
Elle MacPherson – 1%
Carla Bruni – 1%
Although her relationship with Brad Pitt and their many children seems to create the most Angelina Jolie buzz, the talented actress can also be recognized for her work as a Goodwill Ambassador for the UN Refugee Agency and winner of three Golden Globe Awards, two Screen Actors Guild Awards and an Academy Award. Jolie has promoted humanitarian causes throughout the world, and is honored for her work with refugees through UNHCR, according to Wikipedia. 
In 2006, Brad and Angelina started the Jolie/Pitt Foundation which has given to the Global Action for Children and Doctors Without Borders. In 2006 the couple couple donated $8 million of their own income to this new foundation. "Jolie also co-chairs the Education Partnership for Children of Conflict, founded at the Clinton Global Initiative in 2006, which helps fund education programs for children affected by conflict," according to Wikipedia. So maybe it's not just the physical beauty that attracts us Americans?
AFM Model Search
***Think you're as hot as these celebs? Enter our Face of Foothills Model Search competition for a chance to be on the cover of the Arizona Foothills Magazine February 2010 issue, undergo an exciting fashion shoot and see your face featured on the ArizonaFoothillsMagazine.com and AFM E-Newsletter headers for one full year. The lucky winner will also receive a weekend stay in the Valley with spa treatments and other amazing prizes.