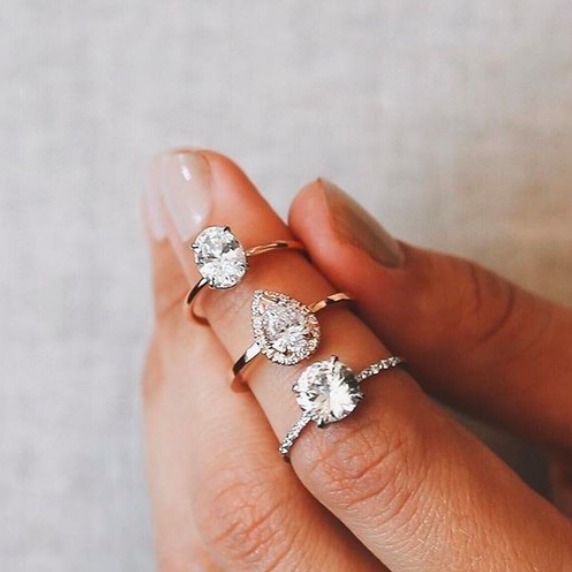 Whether you're proposing for Valentine's Day or you're already married and want to surprise your significant other with some dazzling diamonds, there are several tips to follow when buying jewelry for Valentine's Day. Finding the perfect ring or piece of jewelry doesn't mean you have to break the bank – it's essential to stay budget-minded when purchasing diamonds and other fine jewelry for the most romantic day of the year.
Get to know her taste
Before purchasing a piece of jewelry, it's important to understand your significant other's jewelry taste before investing. There are a variety of shapes, sizes, cuts, colors, etc. that you can choose from, making it difficult to narrow down what you want to buy. Additionally, it's important to know if your mate lacks a particular item such as a ring, bracelet, earrings, or necklace; that way you can add to her jewelry collection.
Research & focus on the 4 C's
Proposing to someone is a stressful process, so understanding what you need to know when ring shopping should alleviate some of that stress. Learning about the four C's: cut, color, clarity, and carat weight—these will play to your advantage when choosing the perfect ring. Additionally, familiarizing yourself with these terms beforehand will allow you to narrow down what you want and stick to your budget.
Consider a lab-grown diamond
For couples who like to stay eco-friendly, lab-grown diamonds are an excellent option as they are typically very cost effective as well. E3 diamonds are created in a lab as opposed to the natural process. However, with that being said, they have the same color, clarity, and brilliance as earth-grown diamonds. Also, it's impossible to tell an E3 diamond apart from a natural diamond due to how they are chemically and optically identical to earth-grown diamonds, allowing you to have a one-of-a-kind ring.
Remain conscious of your budget
Throughout the diamond buying process, it's very easy to get swooned by the sparkles and shimmers and forget about the price tag. No matter what you're purchasing this Valentine's Day, it's imperative you stay friendly to your budget. Throughout your buying process, be sure not to allow anyone to pressure you into breaking your bank – you control what you want.
About the Author
Robbins Brothers, The Engagement Ring Store, specializes in proprietary and designer engagement ring settings and loose diamonds. The company also carries an extensive selection of wedding bands, promise rings, anniversary bands, three-stone and stacked rings, earrings, pendants and bracelets. To learn more about Robbins Brothers, please visit robbinsbrothers.com.