After several rounds, both preliminary and final, the 2015 Miss Universe competition has finally come to a complete close. Colombian beauty Paulina Vega stole the Miss Universe crown, and will spend the next year fulfilling the duties of Miss Universe.  Vega was joined by runner-up Miss USA 2014, Nia Sanchez, along with Miss Ukraine, Miss Netherlands and Miss Jamaica in the Top 5.  Vega was crowned in Miami last night after surviving every key eliminating round, gathering fans and supporters along the way.
If you didn't get the chance to get to know Miss Colombia during the competition, below are the five key moments any pageant fan would want to see of Miss Colombia during the Miss Universe 2015 competition.
Above is a video showing each round of Paulina Vegas's part in Miss Universe last night.
1.  National Costume Show
Paulina dazzled in her Colombian costume.  This fabulous, eye-catching outfit definitely helped solidify her spot for Miss Universe 2015.  The National Costume Show took place on Jan. 23.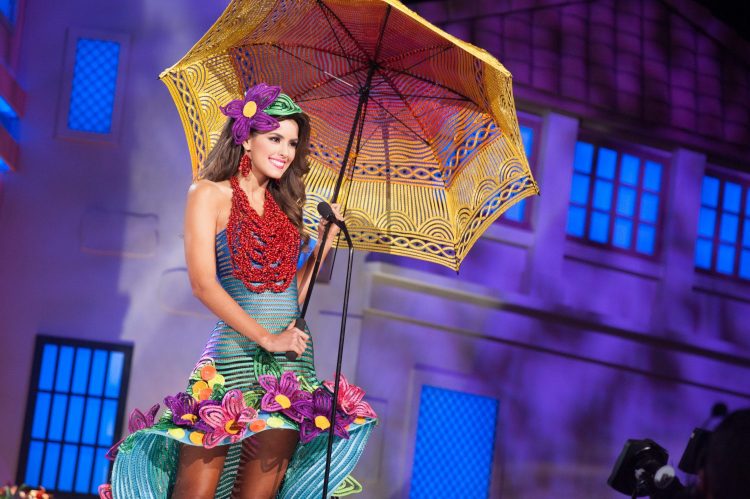 Image courtesy of North Country Public Radio
2.  Swimsuit Round
Miss Colombia looked fit and healthy during the Swimsuit Competition. Below you can see her swimsuit catwalk in both the preliminary and final rounds.
3.  Evening Gown
Miss Colombia looked tall and beautiful during the Evening Dress Competition.
4.  Questions
Perhaps the ultimate moment where it was clear Miss Colombia had a good chance of winning the crown was her answer to the final question.  When asked what her country's greatest contribution was to the entire world, Vega answered with an intelligent, thoughtful and well-spoken reply.  Check out her answer below.
5.  Crowning Moment
Vega took the crown with grace and poise, hugging runner-up Miss USA 2014 before accepting the crown.  Both Miss USA and Colombia were crowd favorites.