Lindsay Bruce: A Shy Girl With an Enchanting Voice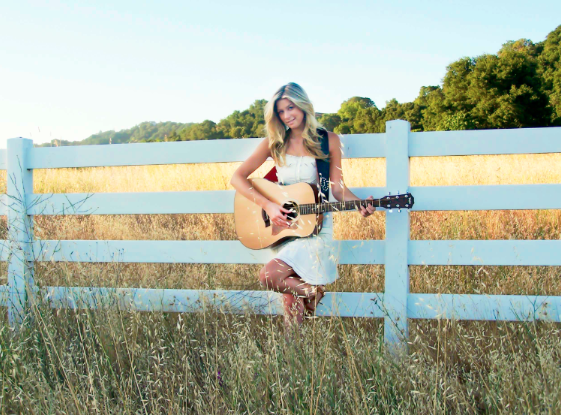 I was at a Halloween Party when I first met Lindsay Bruce. We bonded over how much we love Taylor Swift… because lets face it…. who do you think we were for Halloween? Lindsay chatted passionately about how she was off in a few days to Nashville to pursue her career as a singer/song writer. At first glace, you would never know she could sing but you knew if all else fails for her, she could be a model for every country music video in Texas. She not only has a perfect figure, bright beautiful eyes, and gorgeous blonde hair that falls perfectly into place, but also incredibly sincere, kind, and blushes at a cuss word. She seems shy but once you give her a guitar, she becomes her own and everyone else is enchanted.
Lindsay was raised in Santa Rosa, California and knew she wanted to become a musician at the age of seven. She was always running around writing down lyrics and singing into a recorder. She also came from a very musical family, until she was fifteen, her parents hosted a Christmas Eve sing-a-long that pretty much required every guest to play an instrument, "No one got away being empty handed! It didn't matter how it sounded, it was all about the joy that music can fill a room- and a person- with." She is inspired by many people besides her family like James Taylor, Brad Paisley, Taylor Swift, and Bob Dylan to name a few. Read more to get to know her and just a few reasons why you should vote for her to be on Jimmy Kimmel Live!
When and why did you decide to become a musician?
Growing up, especially being shy, songs were (and have always been) the one place I felt like I could be completely honest and say what I was thinking and feeling. Sharing my songs as an 'artist'/musician, however, was a decision; growing up, it was my last instinct to share my songs- I was too shy to say the things out loud, let alone sing them to people! Then, when I learned about Nashville, particularly that people made their life around songwriting, I couldn't imagine a better way to spend my life. I knew I'd have to start sharing my songs if I was going to get anywhere, so, to the disbelief of myself and my whole family, I made my "debut" in the basement of my college dorm for a campus open mic. I called my whole family afterwards and was shaking for a good 30 minutes afterwards. That was the first step!
What inspires your music and lyrics or anyone that inspires you?
During the summer after high school, I had my first real heartbreak, and that has been one of the best things that has ever happened to me. Even though it hurt, it made me feel so many different things and there was something so inspiring to me about feeling an emotion so fully. It taught that, even when I felt powerless, I had the power to turn even the worst nights into something potentially great, which for me was a song. I think that when you are lucky enough to feel something- or witness someone else feeling something- that is genuine and uninhibited, it can't help but be inspiring.
What are your goals and aspirations:
Hm…this is tough! At the end of the day, I feel like I have been blessed with my family- and recent nephew! However, it is my dream- and aspiration within that dream- to go on tour and sell out an arena!
What was the first tune(s) you learned?
The first tune that I learned on the guitar was "Shadow" by Ashlee Simpson. I remember it only had two chords for the most part so I would just keep repeating the verses and sing over the chords I didn't know. I played it probably 1000 times!
Which famous musicians do you admire? Why? Who have you learned from?
I really admire Brad Paisley. His song "Then" is one my favorite- if not my favorite- love songs and he is such an amazing writer and performer. Also, it would be unforgivable if I didn't mention somewhere that Taylor Swift has been someone that has had an impact on me; I am a huge fan of so many current country artists, but she is the only one out there who sings about the kinds of things that I can relate to one-hundred percent. I feel like the way she writes is really honest and is something I admire, it definitely has taught me that it is worth sharing your songs- even if they are honest to the point of risking embarrassment- because without honesty, they aren't fully relatable. I guess my goal (going back to an earlier question) as a songwriter is relate to other people and be a big sister- type for other girls. As the youngest, I've always wanted to be a big sister for someone else like my sister is to me. (She was the first one who brought me to Nashville!)
Were you influenced by old records & tapes? Which ones?
YES. James Taylor, Carole King, John Denver, The Beatles, the Beach Boys, Billy Joel…I could go on forever but those are some of my favorites. My siblings exposed me to some of the folksier sounds, like Bob Dylan and Janis Joplin too which I am grateful for.
How do you handle mistakes during a performance?
Oh goodness, I just had a lesson in that last night! But, I knew the only thing was to just keep playing and have a good attitude. I think people in the crowd are pretty forgiving if you just do your best, keep going, and give it what you have. It wasn't easy though!
Do you get nervous before a performance or a competition?
I definitely get nervous, but it is like the feeling of getting into a roller coaster. You are nervous, but you are really just excited and you can't wait for it to start. I think the hardest part is literally walking onstage.
What advice would you give to beginners who are nervous?
I wish there was a more clever or less-used way to say this but, in my experience (and I'm still learning!) the best advice I could give anyone is to be themselves and just go for it! If you believe in yourself it will make others want to do the same, and vice versa.
If you could play with anyone in the world, who would it be and what song would you perform?
Another hard one! I'm sitting here thinking of all the legends and "greats" of our time and I keep coming back to my initial reaction, which is Taylor Swift.
You are so talented and beautiful! In terms of love, are you in a relationship? What do you look for in a Prince Charming to sweep you off your feet?
I am currently single and, in terms of looking, I think its definitely true that, especially if you grow up looking up to your Dad, you base a lot of what your looking for in a boy based off of the qualities you admire in your Dad- as weird as that sounds! My Dad has always been a person of integrity who has always encouraged me to "take the high road," even when it is the longer one. For that reason it is a huge draw for me if there is a guy who just seems to be a genuine, honest, hard worker with that same kind of integrity. Even just seeing a guy who opens a door for an elderly lady can make me fall for them a little bit! I also have a weakness for baseball caps.
Tell us a fun fact that no one would know or guess!
I love Nintendo! NES, Super Mario, and Nintendo 64- anything with Mario. I absolutely love it!
Lindsay's Favorites
Food: I love going for Mexican food! Also, really good, cold watermelon.
Candy: Now n' Laters. I used to get them from the snack shack at my brother's baseball games- childhood favorite!
Color: I like baby pink, but I really love yellow and peachy colors because they are so sunny and warm!
Musical Artist: Brad Paisley, Taylor Swift
Animal: A house cat. This is the first time I haven't lived with one and I can't adopt one- I've been fostering one through a local animal shelter. J
Male Celebrity Crush: Luke Bryan- I've been listening to his new CD on repeat!
Shopping Store: Forever 21- I pretty much live in their $10 jeans!
Accessory: A necklace that has a tiny gold cross on it that I got when I was a baby; I'm horrible at accessorizing so I usually just keep it simple!
Hobby: Writing songs. Followed by baking (I love making theme- cakes for my friends birthdays) and crafts. I have a "Michael's" craft store down the road- it's dangerous!
Sport: Baseball (Go Giants!)
Place: My home in Santa Rosa, especially when my whole family is over.
Movie: BBC version of "Pride and Prejudice." It is long but SO worth it!
VOTE:
Contest Deadline: September 6th, 2011
She recently has entered in contest to win a Trip to Seattle to open for the last SummerKrush concert, aired on the Jimmy Kimmel Show! Please Vote so we can see much more of this inspiring and lovely lady!
Watch Lindsay's Music Video and Vote Lindsay for Jimmy Kimmel Live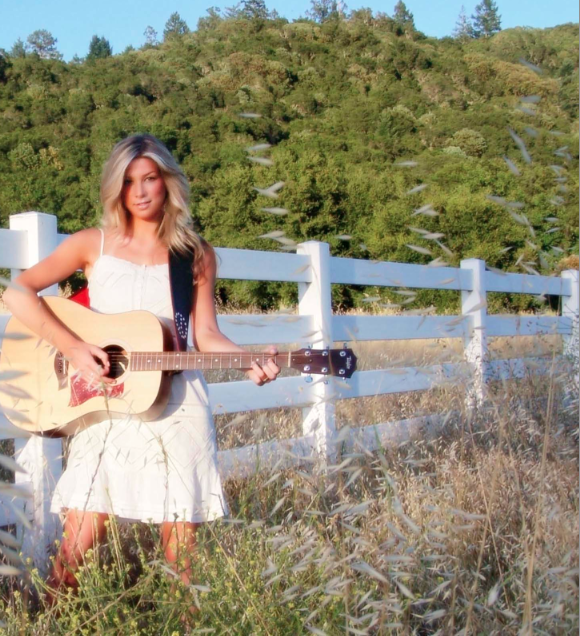 Lindsay's Music Information:
Producer: Tommy Harden
Video 'creators': Christine Kelly, from Swindon, England, and Caitlyn Spaulding from Indiana. Both were post-production interns at CMT.