I have heard wonderful things about Intraceuticals, specifically Intraceuticals Clarity Infusion.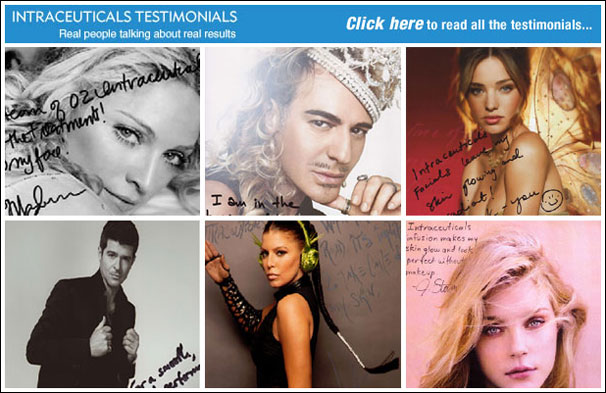 This brand has a substantial amount of followers, even a Hollywood fan base that includes Madonna, Eva Langoria Parker, Miranda Kerr and Katy Perry. It is said that in just one treatment, your skin will look and feel clarified and calm. If you have acne, acne it is diminished and pore-aggravating bacterium is minimized. Moreover, a moisture balance is maintained to help prevent future breakouts. I went to find out more about this and got some samples of my own!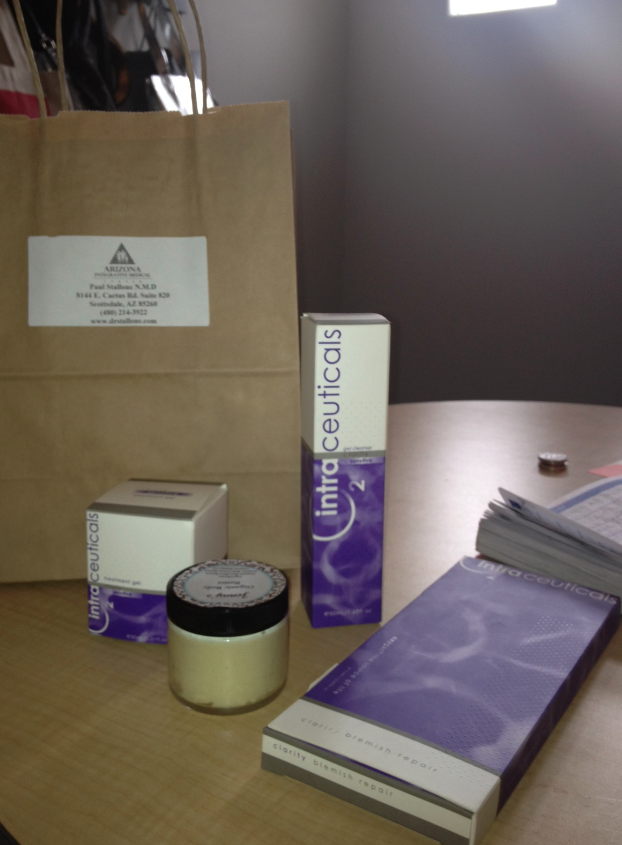 I have been using Intraceuticals for about 2 weeks and my skin looks flawless. My skin just cleared right up, within days! I have tried Proactive, Ziana, and Benzaclin. I constantly was dumping chemicals on my face to get rid of my acne. I realized when you give your body what it naturally needs, it will heal itself.
This is what I found out….
Intraceuticals Clarity Infusion has three elements to accomplish instant and dramatic results: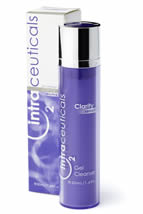 Cleanse: First, the Clarity Gel Cleanser (for sensitive skin) is a very lightweight gel formula that cleans the skin and removes oil. The main reason why the cleanser is different from other products is that it is Sodium Lauryl Sulfate (SLS) free. SLS is in lots of acne medication. However, studies show that SLS not only can make skin flake but also dries the skin by stripping the protective lipids from the surface. This means the lipids cannot effectively regulate moisture.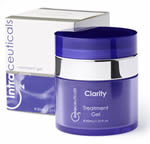 Repair: Second, the Clarity Treatment Gel is a "multi-weight Hyaluronic Acid" that provides the "next hydration layer to seal in moisture and create an invisible barrier against moisture loss." The benefits of this gel are that it reduces uneven skin build-up and helps even skin tone. The product also decreases enlarged pores and is perfect for anyone with acne prone skin.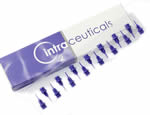 Prevent: Third, the Clarity Blemish Repair Wand is a tool that applies an intense formula to target individual blemishes. What I love best about this repair wand is that it is extremely powerful and helps reduce acne without extreme dryness or flaking. My other acne medication would always dry out my skin. Let's be honest, peeling skin is unhealthy, annoying and not very attractive.
Lastly, Intraceuticals has an oxygen treatment and facial that instantly hydrates your skin, firms your skin, and reduces fine lines and wrinkles. When I went in for my Intraceuticals treatment, it was very different from the facials I was used to. Unlike other facials, Intraceuticals did not do any exfoliation or use lots of gooey facial cream. The Intraceuticals facials are about "a forced stream of oxygen via a treatment wand to push a hyaluronic-acid serum from the epidermis (the skin's surface) to the dermis underneath."
Click here to go to Intraceuticals website.
Click here to see a video on the treatment.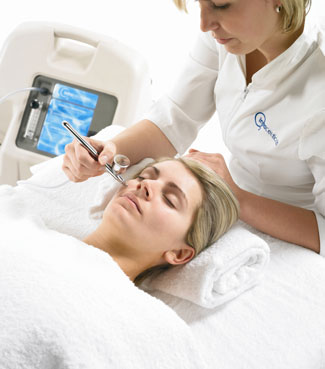 During my appointment, I took lots of pictures and asked lots of questions. To be honest, I really wanted to see if the results were as good as they said they were!
Dr. Jennifer Stallone did the treatment on half my face, took a picture, and then did the other side.
I have attached a before and after picture… the results were unbelievable! The side with the treatment has an even skin tone, my skin looks smoother, feels softer, and the fine lines were reduced.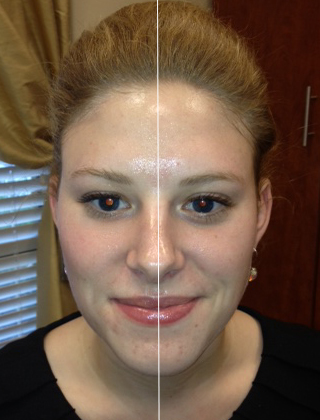 You still don't believe me? Click here for more before and after pictures of other people!