We all love to hate Nicole "Snooki" Polizzi and have serious questions as to why this young girl of the Jersey Shore has made it so big in our pop culture. But the train wreck from the East coast is going full force with her new found fame. She has released her own fictional novel, "A Shore Thing", describing a "summer to remember… at the Jersey Shore." Will it be a hit like her reality show? Or should the star stick to her successful career of making a fool of herself on camera? I guess we'll have to wait and see!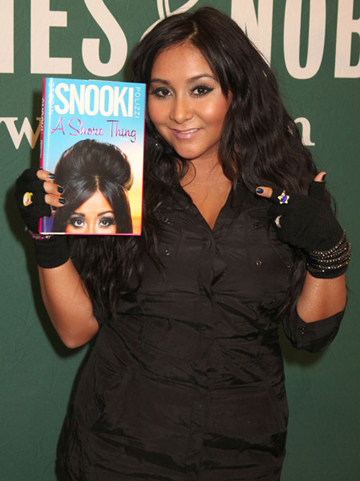 Nicole "Snooki" Polizzi signed copies of her new book at Barnes & Noble bookstore at The Grove on January 6, 2011 in Los Angeles, California.
"A Shore Thing" Description:
Giovanna "Gia" Spumanti and her cousin Isabella "Bella" Rizzoli are going to have the sexiest summer ever. While they couldn't be more different—pint-size Gia is a carefree, outspoken party girl and Bella is a tall, slender athlete who always holds her tongue—for the next month they're ready to pouf up their hair, put on their stilettos, and soak up all that Seaside Heights, New Jersey, has to offer: hot guidos, cool clubs, fried Oreos, and lots of tequila.
So far, Gia's summer is on fire. Between nearly burning down their rented bungalow, inventing the popular "tan-tags" at the Tantastic Salon where she works, and rescuing a shark on the beach, she becomes a local celebrity overnight. Luckily, she meets the perfect guy to help her keep the flames under control. Firefighter Frank Rossi is exactly her type: big, tan, and Italian. But is he tough enough to handle Gia when things really heat up?
Bella is more than ready for some fun in the sun. Finally free of her bonehead ex-boyfriend, she left home in Brooklyn with one goal in mind: hooking up with a sexy gorilla for a no-strings-attached summer fling. In no time, she lands a job leading "Beat Up the Beat" dance classes at a local gym, and is scooped up by Beemer-driving, preppy Bender Newberry. Only problem: Bella can't get her romantic and ripped boss Tony "Trouble" Troublino out of her head. He's relationship material. Suddenly, Bella's not sure what she wants.
The cousins soon realize that for every friend they make on the boardwalk, there are also rivals, slummers, and frenemies who will do anything to ruin their summer—and try their relationship. Before July ends, the bonds of family and friendship will be stretched to the breaking point. Will the haters prevail, or will Gia and Bella find love at the Shore?
For everyone who loves MTV's hit reality show, Nicole "Snooki" Polizzi's sweet, funny, and sexy novel perfectly captures the heat, the energy, the fun, and the drama of Jersey Shore.