The just-finished Season 8 of American Idol will never be forgotten, perhaps because of the shocking outcome or for the discovery of what could be our modern-day Elvis. Here in Arizona, the city of Scottsdale is making sure we never forget this season as it proclaims tomorrow, May 28, "Scott MacIntyre Day" to recognize this Scottsdale born top 10 AI finalist. MacIntyre, 23, was born visually impaired and with an ear for music, which has made him an inspiration to our community and the nation.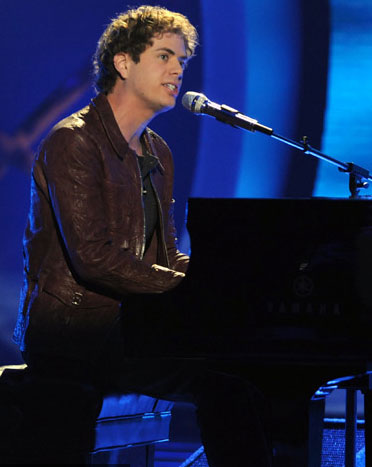 MacIntyre will be honored tomorrow beginning at 8:30 a.m. at the Scottsdale Civic Center Mall for a special Mayor and City Council coffee. All fans are invited to come to this free event where MacIntyre will be the featured speaker. Sadly, MacIntyre will not be able to sing at tomorrow's event, but will share his experience on the #1 reality show and singing competition on television and how he got to where he is today. MacIntyre will go on tour this summer with the other finalists, Adam Lambert, Allison Iraheta, Anoop Desal, Danny Gokey, Kris Allen, Lil Rounds, Matt Giraud, Megan Joy and Michael Sarver.
The event will take place on the mall's Fountain Stage, which is located just north of the Scottsdale Center for the Performing Arts at 7380 E. Second St. There will be 250 seats available and anyone else can sit on the lawn. Coffee and other beverages will be served.
To view photos from the Scott MacIntyre Day event click here.
Scott MacIntyre began playing piano by ear at age 3. Classically trained, he has been profiled on CNN, Sky News Europe, USA Today, and other media as pianist, vocalist, and songwriter. He has independently released 6 full-length CD's and has written in genres spanning pop, rock, punk, jazz, and classical.
MacIntyre graduated from Arizona State University, the Royal College of Music and Royal Holloway University of London. He is also a recipient of both the Marshall and Fulbright scholarships.
He has received awards for piano, composition, and vocal performance. Recent highlights include winner of the VSA Arts 2008 Young Soloists Award; First Place in the Herberger Theater Center Young Artist Competition; First Place in the Fiesta Chorus of Sweet Adeline Talent Search; First Place in the Butterfield Young Artist Concerto Competition; Grand Prize Winner Phoenix Symphony Guild, First Place Senior Piano Concerto competition; and second place in the national finals of the Canadian Music Competitions. He has performed as guest soloist with symphony orchestras, as well as playing the Kennedy Center, Orpheum Theater, Sundome, Phoenix Symphony Hall, and Gammage Auditorium. More information on his background is available at his Web site: www.ScottMacIntyre.com.