The backdrop of Go Daddy's next TV commercial may look familiar. The Scottsdale-based company filmed its newest Go Daddy Girl, professional golfer Anna Rawson, around a tee box and other areas of the Grayhawk Golf Club in North Scottsdale last Thursday.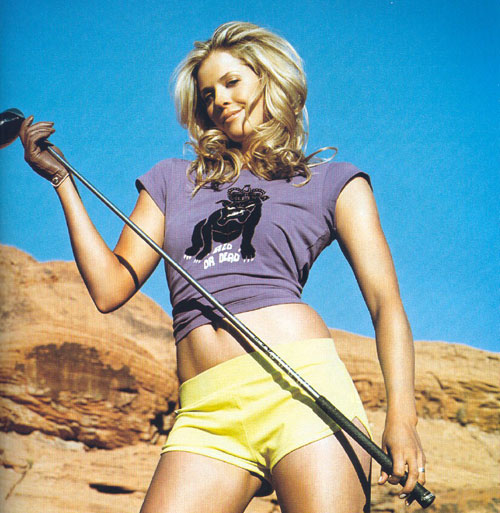 Go Daddy, a popular internet domain name registrar, ordinarily films its advertisements in Los Angeles or Las Vegas, where filming costs are low, but this time the company wanted to spend money in its hometown where it works and resides. It was also an added convenience to film right next to its headquarters.
The Go Daddy commercial, which is the first to be filmed in Arizona, has Rawson playing herself who discovers a magical lamp that releases a genie played by Go Daddy's own Chief Executive Officer Bob Parsons. To drive more visitors to their Web site, Go Daddy likes to air an Internet-only version. In this online segment, the genie offers Rawson three wishes. "One wish, to hit a really long drive, plays off recent international news and has Rawson's golf ball knocking a North Korean satellite out of the sky," according to The Arizona Republic. Beside the attractive pro golfer is Arizona actress Brenna Sakas who plays her golfing partner.
"This will still be edgy, but it is less edgy than our typical commercial," Parsons said.
Keep you eyes peeled this month for the new commercial as the domain powerhouse hopes to have it air sometime in June while the PGA tournament is broadcasted, according to The Arizona Republic.
This will be Anna Rawson's first televised commercial. Go Daddy ads, which sometimes use sexual humor to draw attention, spent around $300,000 on the Scottsdale shoot, which includes the golf-rentals at Grayhawk, according to The Arizona Republic.
You might have seen Go Daddy's last commercial if you were watching the Indianapolis 500. The ad featured auto racer Danica Patrick being pulled over for speeding by a cop who then gives her a strip tease to "demonstrate her qualifications to be a Go Daddy Girl."
The commercial ending teased viewers by directing them to their site to see the Internet-only conclusion. The tease seemed to work as online visitors increased by 163 percent over last year's commercial airing, according to The Arizona Republic.
The commercial, which 92 percent of visitors surveyed thought was funny, drove even more people to the site after the race was over. This created a 570 percent increase in the year's total Web visits, according to The Arizona Republic.