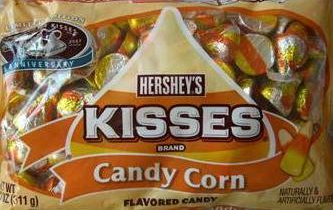 The air is crisp(er), the (few) leaves are falling, pumpkins are on the (100-degree) corners and we all know what that means.  CANDY CORN SEASON!
But this time when we went to Target for our seasonal treat, there was something even better than the usual candy corn and mellowcreme pumpkins! These incredibly delicious, unbelievably adorable Candy Corn-flavored Hershey's Kisses.  The white chocolate base is flavored that familiar caramelly, buttercreamy candy corn flavor, and even looks like 3D versions of our favorite holiday candy.
Dare we say it? We like these MORE.