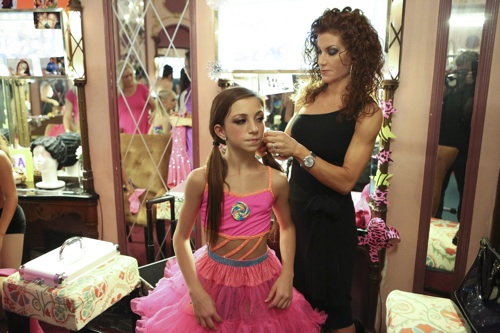 Image courtesy of channelguidemagblog.com
The Valley of the Sun is home to a hot dance duo.  Tessa and Renée are a mother and child pair who have found stardom through the Lifetime series "Dance Moms."
AZ Foothills got the chance to sit down and chat with these stars of "Dance Moms."  Read their insight on the show, and their thoughts on the lifestyle of being a dancer below.
AFM- How did you become involved with Dance Moms?
Tessa and I had received a mass email that was an advertisement for a new TV show that was to be called "So your kid can dance".  I submitted Tessa's information and a video of her performing a solo and heard back from them no more than 20 min. later. It was crazy. We went through the audition process and made the cut for the show which turned out to be 'Abby's Ultimate Dance Competition" "AUDC" on Lifetime TV. Having that exposure, experience and staying on top of the dance seen transpired into this opportunity.
AFM- Have you experienced a change in your typical lifestyle now that you are involved?
It is a life style change for sure however I feel like we are ready for it now verses when we first began on AUDC. It was a learning curve for our family and for Tessa and I as well. There is so many things to address and organize in order to have a successful large family, marriage and dance partnership between Tessa and I. It has been a life style change for the whole family. Thanks to my husband Bill along with our 4 boys Calvin, Lucas, ashton and Bronsen for being so supportive and making it possible.
AFM- How frequently are you in a new episode for Dance Moms?
We began on season 5 episode 13 and from there we are on a majority of the episodes. It varies.
AFM- If you were to explain the show to a viewer who has not seen the show, how would you describe it?
That is a great question. Well i would tell them that it is a show that follows the lives of competitive young dancers and their dance moms; showing the viewers what goes into preparation, performing and all the drama that occurs through the journey. It is important for one to realize that Dance Moms is a controversial "tv show" and to keep it as that. It is not to be used as a guide of how to behave and what it is like being a dance Mom.  Believe me the real life of a dance mom can be filled with drama however dance Moms do come in all forms not just what is highlighted in the show.
AFM- Renee, What do you think qualifies as a good dance mom?
Being a good dance Mom is what I truly believe is a skill that is learned paired with genuine love for your dancer.  It is really important to become educated on the art/sport so you can be a advocate for your dancer. This is a very dear topic to Tessa and I that we love to share our knowledge and experiences with others to help them avoid mistakes we have made and hard lessons learned.  We truly want to help others succeed in dance. Both Tessa and I address key topics with fellow dance Moms and dancers weekly through my blog and Tessa's blog.
AFM- Renee, What do you think would make you fall into the category of a bad dance mom?
I believe a bad dance mom can be a result of different things. One type of bad dance mom is the one that hovers over their child dancer giving them no room to grow as the dancer they are meant to become. Another bad dance mom is one that is not present emotionally, and supportively for their child. We need to remember that we are raising children and that requires guidance, love and support.
AFM- Tessa, what's your favorite thing about dance?
My favorite thing about dance is being able to create art with your body.
AFM- Tessa, what's your dream with dance in the future?
To dance professional in a company and to be involved with dance throughout my life.
AFM- Did you watch dance moms before being on the show?
Believe it or not we did not watch "Dance Moms" before. We are always at the dance studio till late into the evening making TV watching not possible. But of course we knew of the show and had the pleasure of knowing the cast and crew through our earlier AUDC experience.
AFM- What's it like to be in the dance community of Arizona?
Our dance community in Arizona is made up of many talented dancers. There is great training within the Phoenix and Scottsdale area. You just need to know how to find it.
AFM- Are there any other Arizona families on the show?
Yes, incredibly there are 2 other Arizona families on the show. As I said above Arizona has great training.  Being the best dancer you can be is what Tessa and I are all about. Please check out our information below.
To follow more of Renée and Tessa's story, you can look at Tessa's website and her YouTube station.
Meet Tessa with the YouTube video below.
Below is the introduction for Tessa.
Below are more images of Renée and Tessa.