Sometimes going out to eat at a new eatery in town can be a hit or miss situation, but when you hear it's one of Sam Fox's credible "Concepts," you know you're in for some delicious, second to none cuisine and an always refined and happening ambiance. Fox, whose booming business seems unaffected by the current economy, is expanding with his plan to open two new restaurants in Scottsdale by mid-January!

Opening Oct. 21 in Scottsdale Fashion Square, Modern Steak, will not be your average Scottsdale steakhouse. The theme is "glamour," made clear by the striking white metal sculpture that artfully shades the outside climate-controlled patio. While Modern Steak exudes elegance it is said to be comfortable and affordable. Guests will be able to enjoy top-notch fare in the beautifully appointed dining room, bar or three private dining rooms.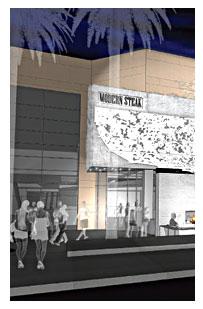 Out with the old and in with the new! To replace our not so favorite and former residing restaurant, Pink Taco, comes another Fox Restaurant Concept in Fashion Square to be named Culinary Dropout. This project, which is set to open in January, is still in the conceptual stage. The menu will include "chef-driven comfort food for lunch, dinner and late-night dining," according to The Arizona Republic.
Sam Fox is destined to become the leading restaurant authority at the Scottsdale Waterfront's as he already has two ever so popular eateries, Sauce and the always bustling Olive & Ivy, that bring dining delight to this trendy area.
Fox Restaurant Concepts started with the opening of their first restaurant in Tucson, known as Wildflower in 1998. Now FRC has opened many restaurants in the Phoenix-area, as well as in Colorado, Texas and Kansas. Some of his best and well-known local eateries include NoRTH, Blanco Tacos + Tequila, The Greene House, Bloom and Olive & Ivy.
"We're passionate about the restaurant industry, we're dedicated to the craftsmanship of food and wine, and we strive to create memorable dining experiences."
Fox Restaurant Concepts 
Modern Steak
Scottsdale Fashion Square
7014 E. Camelback Rd.
Suite 1433
Scottsdale AZ 85251
www.foxrc.com