It's about time Scottsdale had a place to listen to live, fun music. And not just any music – "the World's Greatest Rock 'N' Roll Dueling Piano Show." This Friday at 7 p.m., Arizonans are invited to the newest spot in town and the grand opening bash of Howl at the Moon in Scottsdale!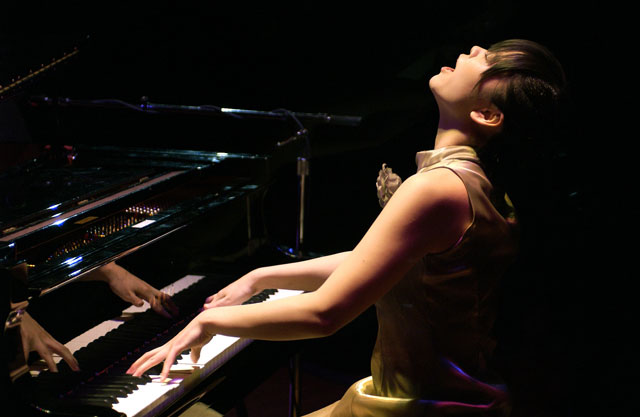 With other popular locations across the country, Howl at the Moon is sure to be the new and fun hot spot in Scottsdale. Howl is a total entertainment experience where the piano players and staff do not only entertain the guests; the guests become part of the show. The talented staff will perform songs from the 70's to today's popular hits each night to keep the energy up while guests sip on creative drinks like "Pom-Lemonato" to "Tradewind Punch". Audience participation is a must, so be ready to clap, sing, dance, and howl!
How it works..
"Howl at the Moon's piano players take the stage two at a time. The entertainers play for one hour and then yield the stage to two new players. At the changeover, all four piano players stay on stage for what is known as a "four-way." The four-way occurs at the end of each hour and lasts for two to three songs. This hourly encore allows the piano players to incorporate additional instruments (drums, guitar, and saxophone) into the performance. The four-way raises the energy of the room and provides a defined transition between the piano player shifts."
Be ready for "Showtime" which occurs every hour at Howl at the Moon. During this act, the audience is expected to join the entertainers with their choreographed animated routine from popular TV jingles.
Howl at the Moon is especially great for birthdays, anniversaries, bachelorette parties and other celebrations. Howl works with some of the best caterers in the country for special events and can range from passed appetizers to fully catered buffets. Plus, Howl at the Moon can create customized cocktails and drink packages specifically made for the bid day!
Howl's Halloween Specials
Howl at the Moon is obviously going to be the happening spot on Halloween. But throughout the month of October, Howl's will be dishing out "Howlin' Drinks" including:
Trick-or-Tini
Bucket of Ooze
Zombie Punch
Ecto Cooler
Plus $3 Coors Lights on Oct. 31!
Howl at the Moon
7419 E. Indian Plaza Dr.
Scottsdale, AZ
For more information visit www.howlatthemoon.com.