Get up, stand-up! LOL at Old Town Scottsdale's newest comedy club, "Stand-Up, Scottsdale!", presented by one of the Valley's leading comedy guru's, Howard Hughes. Nightly shows featuring the best touring comedians as seen on Comedy Central, HBO, Last Comic Standing, Showtime, MTV and George Lopez, will pack the house every Friday and Saturday at 7 p.m. and 9 p.m.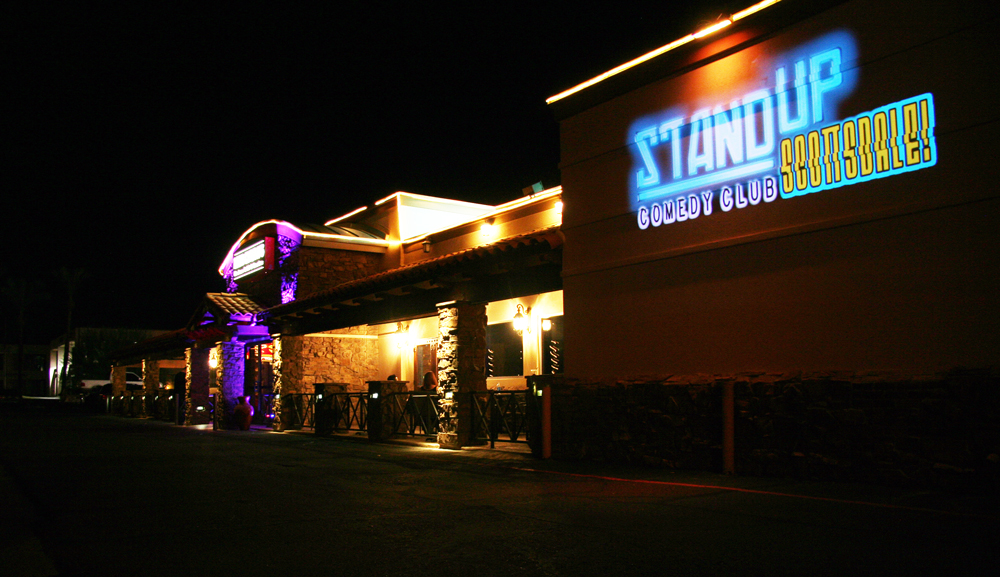 Stand-up, Scottsdale! promises to host new acts every Friday and Staturday night in its 180 seat showroom. Bring your appetites because the comedy club features a delectable dinner menu available before, during or after the shows, as well as a full bar. There is a two drink minimum during each show.
Got any funny friends? Fill them in on Stand-Up, Scottsdale's free open-mic nights on Wednesdays starting at 8 p.m. (doors open at 7 p.m.). This is a perfect opportunity for amateur comics to try out their new material with an attentive crowd, ready to LOL.
The Stand-up, Scottsdale! upcoming show schedule includes:
April 29-30: Special engagement, Craig Gass as seen on Sex and the City, Howard Stern, Family Guy
May 6-7: Andrew Norelli as seen on Jimmy Kimmel Live, Comedy Central
May 13-14: Eric "Smooth-E" Schwartz as seen on Comedy Central and Showtime
May 20-21: Sarah Tiana as seen on Reno 911 and Showtime
May 27-28: John Roy as seen on Comedy Central and the Late Late Show with Craig Ferguson
June 3-4: Tom McClain as seen on Dr. Phil
June 10-11: Moshe Kasher & Brent Weinbach as seen on Lopez Tonight and Comedy Central
Stand Up, Scottsdale! is located at the legendary Anderson's Fifth Estate building at 6820 E. 5th Ave. on 5th Ave. in Old Town Scottsdale. From 1982 to 1988, Scottsdale was the premiere destination for great comedy at Anderson's Fifth Estate. Many local and touring comedians shared their laughs there, and paved the way for the future of great comedy. One of the original hosts for this great comedy showcase was local funny man David Spade. Other great comedians also left their mark at Anderson's, such as Mark Cordes, Dan Horn, Howard Dean, Michael Finney, Robert Schimmel, and Michael Bailey.