No party has quite the amount of suspense and anticipation than that of the annual Phoenix Suitcase Party, held in the luxury private hangar of Atlantic Aviation at the Deer Valley Airport. Although there are plenty of fabulous distractions and entertainment at the event, guests are still at the edge of their seats wondering if they will be whisked away immediately, by private jet, for an exclusive luxury weekend in the California Wine Country. Mark you calendars for April 15 because the Active 20-30 Club of Phoenix has teamed up with the Make-A-Wish Foundation of Arizona to present the best Phoenix Suitcase Party yet!

The Party
The prep time for this event, is like no other. Not only do you have to ready yourself, but you also have to pack your bags for a weekend in Napa Valley. Stop complaining. It will be worth it if you're sipping Nor-Cal vinos. Guests will walk the red carpet and enjoy an evening of drinking, dancing and food samples from local restaurants. Live entertainment will be provided by The Chadwicks. At approximately 9 p.m., a 7-passenger Learjet 55 will taxi to the far side of the hangar and the evening's main raffle drawing will take place.

The fabulous host for the evening will be Channel 3 KTVK's Kaley O'Kelley. Kaley is a four-time Emmy-Award winning journalist and is currently co-anchor, reporter and host of Arizona's most popular morning news program, "Good Morning Arizona", airing weekdays from 4:30 a.m. to 9 a.m.
The Prizes
The winning raffle ticket will entitle its owner, plus a guest, to grab their packed suitcase and board the private jet, which will leave immediately for Sonoma Valley, CA. Over the weekend, the winners will enjoy 5-star accommodations and two full days of private winery tours with their own chauffeur-driven car. On Sunday afternoon, the winners will once again board their Learjet 55 and return to Deer Valley airport, where their car (and reality) will await them.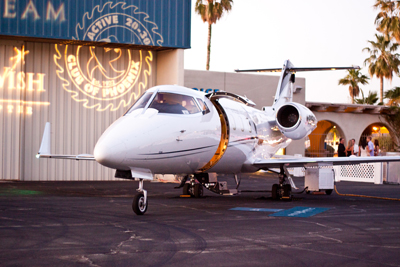 Those that don't win the grand prize will still have a chance to put those packed suitcases to use. After guests watch the Learjet 55 depart the hangar, additional prizes will be drawn from the raffle for "stay-cations" in the greater Phoenix area. These include two night stays at the Intercontinental Montelucia Resort and the Arizona Biltmore Resort. The winners of these vacations will grab their bags and board their own private limousines to their "local weekend getaway".
Those who don't win one of the four vacations will stay to dance the night away at the party.
Tickets
For tickets visit www.phoenixsuitcaseparty.com.
All proceeds from the event benefit the Make-A-Wish Foundation of Arizona and the Children In Need Foundation, the non-profit organization run by Active 20-30 Club of Phoenix, which provides funds and services to children's charities in the Greater Phoenix metropolitan area.