You don't have to be a hard-core athlete to enjoy the festivities that come along with this weekend's P.F. Chang's Rock 'n' Roll Arizona Marathon. Join in on the fun festivities!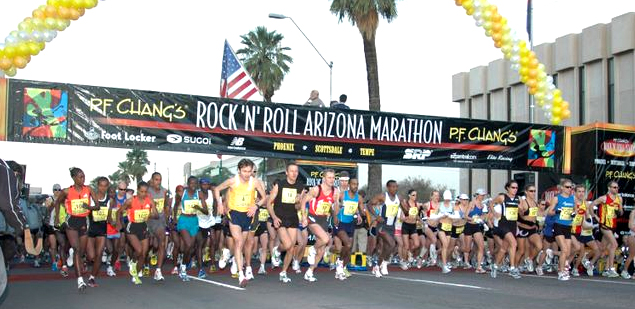 Rock & Roll Block Party at CityScape on Central
Attention runners, spectators and those who just love a good block party! Before or after you pick up your race day packet at the P.F. Chang's Rock 'n' Roll Arizona Health & Fitness Expo presented by Fox10 and My45, make your way to the free CityScape Block Party for live music, food, drink, and shopping. All runners, volunteers and their families are welcome!
The P.F. Chang's Rock 'n' Roll Arizona Marathon takes place on January 16, however this amazing block party will take place two days before at CityScape on One East Washington Street, Phoenix AZ. 85004.
Doors Open at 3 p.m. and close at 9 p.m.
The event will feature live Music by The Elevens, Steve Ansel and the Jackson Street Band, along with great food, sips and shopping.
Post-Race Concert
The race is finally over! Now it's time to celebrate… Head to the free post-race concert featuring headliner act Vertical Horizon. Held in conjunction with the Finish Line Festival at Sun Angel Stadium at Arizona State University, the concert is held immediately after the race and is free and open to the public, so invite everyone you know to rock-out along with you!
Post Race Concert Schedule
9:30am – 11:00am: Chuck E Baby & The All Stars
11:00am – 11:30am: Awards Program
11:30am – 12:30pm: Vertical Horizon
12:30pm – 1:30pm: DJ
1:30pm – 2:30pm: Vertical Horizon
2:30pm – 3:00pm: DJ
Running Legends Happy Hour at P.F. Chang's
Date: Thursday, January 13, 2011
Time: 5 p.m.-7 p.m.
Location: Scottsdale Waterfront PF Chang's, 7135 E. Camelback Rd, Scottsdale, AZ
Sip cocktails with running legends Josh Cox, Kara Goucher, Steve Scott and Frank Shorter at this running-inspired P.F. Chang's happy hour on Thursday before the race!