Are you ready to get your poker face on and just dance? You better be because Virgin Mobile's Monster Ball starring the one and only Lady Gaga will head to Phoenix's US Airways Center on March 26, 2011. Gaga oh la la!
Known for her bizarre fashion and ultra popular pop songs, Lady Gaga is in the midst of her second worldwide tour to promote The Fame Monster, which was released in 2009. The Monster Ball began four days after the album, which she describes as "the first-ever 'pop electro opera,'" was released. The traveling production is said to be an eyeful as Gaga's production team, Haus of Gaga, designed the stage, which includes a giant contraption called "The Orbit". "Gaga and her production team developed a stage that looks like a frame with forced perspectives and everything for the show fitted within it. She compared the setting of the stage with that of a hollowed-out television set," according to Wikipedia.
Lady Gaga was supposed to have a joint tour with rapper Kanye West called "Fame Kills," but it was cancelled shortly before she announced the Monster Ball on October 15, 2009. The Monster Ball incorporates some of the elements from "Fame Kills," however.
If you saw her last year, you may want to consider going to her new, and revamped show, which is decked out in a New York theme. The production portrays Gaga and her buddies who get lost in NY while making their way to the Monster Ball.
The five segment show allows for total Gaga fashion to be at its best, as she will change her jaw-dropping outfits for each.
"Each segment featured Gaga in a new dress and was followed by a video interlude, portraying Gaga in Gothic and artsy poses, to the next one," according to Wikipedia.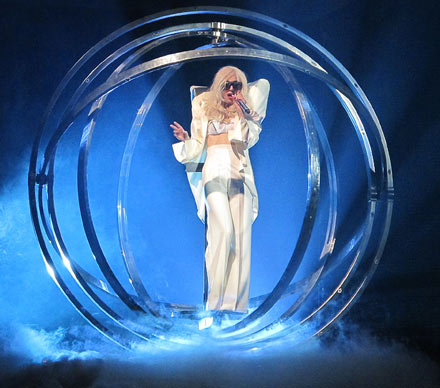 The album followed her 2008 Grammy Award winning album "The Fame" which includes the number one hits "Just Dance," "Poker Face," "Paparazzi," "Lovegame," and "Bad Romance." Both albums have sold 10 million albums worldwide and her singles "Just Dance," "Poker Face," "Lovegame," "Paparazzi," and "Bad Romance" have sold more than 30 million copies total. The video for "Bad Romance" has received more than 125 million online views.
"At the 2010 Billboard Touring Awards, Gaga won the Breakthrough Performer Award, as well as the Concert Marketing & Promotion Award, the latter being an acknowledgment of her partnership with Virgin Mobile", according to Wikipedia.
Honored as one of Forbes' 100 Most Powerful and Influential celebrities in the world and as Top 7 in its World's 100 Most Powerful Women list, Lady Gaga is female, glam rock powerhouse!