University of Arizona students are gearing up for tonight's BIG show on campus as the highest-selling American Idol winner from the show's first season, Kelly Clarkson, and hip hop superstar Jay-Z will be performing at their Arizona Stadium along with 90's alternative rock band, Third Eye Blind, and The Veronicas from Australia. The show, Last Smash Platinum Bash, will be the first concert at the Arizona Stadium in more than 30 years and to top it off, proceeds from the much anticipated show will go to the ASUA scholarship fund.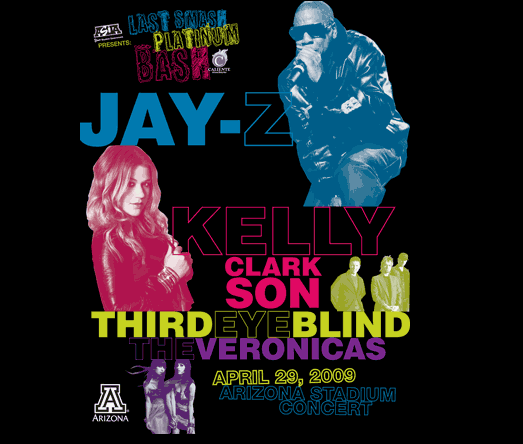 About Kelly Clarkson: Kelly Clarkson is best known for her unforgettable pop albums and winning the first American Idol in 2002, but she has also written her own songs and has acted in movies. Clarkson has sold over 20 million albums worldwide, according to Sony Music. Clarkson has had eight of her singles become Top ten hits on the Billboard Hot 100. In the first week of release, her latest single "My Life Would Suck Without You" went from No. 97 to No. 1 on the Hot 100, breaking the record for the largest leap to the position in chart history. Clarkson is still the only American Idol contestant to reach number one in the UK, according to Wikipedia.
About Jay-Z: Us girls best know him for being Beyonce's leading man, but Jay-Z (Shawn Corey Carter) is one of the most successful hip hop artists and American entrepreneurs of our time. Non only is he a Grammy Award winner and has sold over 26 million hits in the US, but he co-owns The 40/40 Club and the New Jersey Nets, is former CEO of Def Jam Recordings and Roc-A-Fella Records. In 2003, Jay-Z announced his retirement from recording music, but in 2006 he surprised fans with the release of "Kingdom Come" which sold 680,000 copies in the first week, breaking records for Jay-Z albums in a weeks amount of time. On April, 4 2008, Jay-Z and Beyonce quietly married, according to Wikipedia.
About Third Eye Blind: This American alternative rock band from San Francisco was formed in the early '90s and released popular albums as "Blue," "Out of the Vein" and "Red Star," according to Wikipedia.
About The Veronicas: This Australian pop-rock band is "electro based" and was formed by twin sisters Jessica and Lisa Origliasso. Most know them from their two studio albums: "The Secret Life of…" and "Hook Me Up," both of which hit top fiven o the Australian charts, according to Wikipedia.
Arizona Stadium
Highland Avenue and 6th Street, Tucson
www.asua.arizona.edu