Okay, so it may not be the girliest event of the week… but it sure is exciting! The 22nd Annual Insight Bowl has been played in Phoenix since 2000 and tonight's game is set to be bigger and better than ever! Missouri and Iowa will face off at the Sun Devil Stadium in Tempe at 8 p.m. Arizona time. Grab your tickets fast!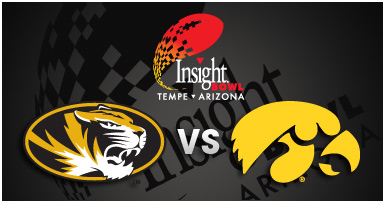 22nd Annual Insight Bowl
Match-up: Missouri vs. Iowa
Time: 8 p.m. MST
Date: Tuesday, Dec. 28, 2010
Location: Sun Devil Stadium, Tempe, AZ
TV: ESPN
Radio: ESPN Radio
Series: Missouri leads the series 7-5.
Here's a recap on the two teams up against each other, provided by FiestaBowl.org…
Missouri
Missouri completed its regular season 10-2 and is ranked 12th in the final BCS standings after playing the seventh-toughest schedule in the nation. The Tigers have outstanding wins over then-BCS #1 Oklahoma, 36-27, and #18 Texas A&M, 30-9, at College Station. The 22nd Annual Insight Bowl will be the Tigers sixth straight bowl game, a Mizzou record. The Tigers defense leads the Big 12 and ranks sixth nationally in scoring defense, allowing only 15.2 points per game, including two shutouts in Big 12 play. Mizzou is the ninth-winningest program in the NCAA from 2007-10 with 40 wins. Among automatic qualifying BCS leagues, the Tigers have the sixth-most wins during that time period, trailing only Ohio State (43), Alabama (42), Florida (42), Oklahoma (41) and Virginia Tech (41).
Iowa
Iowa will be making its 25th bowl appearance after facing one of the nation's most difficult schedules. In each of the Hawkeyes' five losses, they were tied (Arizona) or led (Minnesota, Northwestern, OhioState, Wisconsin) in the fourth quarter. Iowa's five losses occurred by a total of 18 points. The Hawkeyes most impressive victory was a 37-6 thumping of Big Ten tri-champion Michigan State. The Hawkeyes, bowl eligible the past 10 seasons, are playing in their ninth bowl game in the past 10 campaigns. Iowa is one of eight programs to play in six January bowl games over the last eight seasons, including last year's FedEx Orange Bowl. Overall, the Hawkeyes have played in eight bowls since 2001. Iowa has recorded a victory over a top-five ranked team in each of the last three seasons.
For those of you who did not score tickets to tonight's big game, don't worry. It will be televised on ESPN. Try one of these popular sports bars in the Valley!