Still trying to decide what to get Mom this Mother's Day and maybe how to spend the holiday? Kill two birds with one stone and give her an evening in the Gardens listening to the unbelievable guitarist Esteban. Desert Botanical Gardens has created two fabulous concerts on May 10 to suit everyone's Mother's Day needs. The 11 a.m. to 1 p.m. show will feature Estéban in concert with a delightful buffet lunch prepared by Fabulous Food Fine Catering & Events with table seating. For those of you with prior engagements for Mother's Day dining, enjoy the 4 to 6 p.m. show which will solely feature Esteban in concert with auditorium style seating.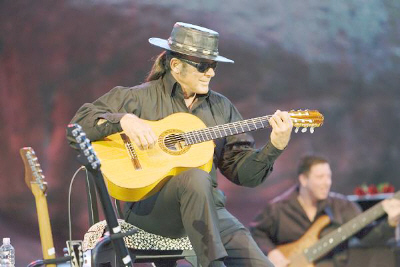 The event will take place in Dorrance Hall at Desert Botanical Gardens and tickets are $50 (lunch tickets are sold separately). The night show will open its doors at 3 p.m.
Tickets:
Tickets are limited and advance ticket purchase is required. To Purchase Tickets visit click here or call 480.481.8188, Monday – Friday (8 a.m. – 4 p.m. daily). You may also visit the Admission Box Office (8 a.m. – 8 p.m.). No refunds or exchanges on ticket(s) purchased.
For More Information call 480.941.1225 or visit www.dbg.org.
About Esteban: Stephen Paul, stage name Esteban, is best known for his soothing guitar music, bolero hat and sunglasses. He became well-known after selling many CDs and guitars on QVC and HSN. He has also been featured in The Wall Street Journal and People Magazine. From 2001 to 2003, Esteban released over a dozen additional albums, four of which placed in the lower half of the Billboard 200. It wasn't until October 2006 that he landed his first major album deal with Sony RED Distribution. The album, The Best of Esteban, features has no vocals and includes songs as "Besame Mucho Interlude" and Beatles' classic "Here Comes the Sun."
About Desert Botanical Garden: Nestled amid the red buttes of Papago Park, the Desert Botanical Garden hosts one of the world's finest collections of desert plants. One of only 44 botanical gardens accredited by the American Association of Museums, this one-of-a-kind museum showcases 50 acres of beautiful outdoor exhibits. Home to 139 rare, threatened and endangered plant species from around the world, the Garden offers interesting and inspiring experiences to more than 300,000 visitors each year.
A charter member of the Museum Association of Arizona and National Center for Plant Conservation, the Garden is fully accredited with the American Association of Museums and American Association of Botanical Gardens and Arboreta. It continues to build on its 63-year legacy of environmental stewardship, and has become nationally and internationally renowned for its plant collections, research and educational programs.
Desert Botanical Garden
1201 N. Galvin Parkway
Phoenix, AZ 85008
www.dbg.org