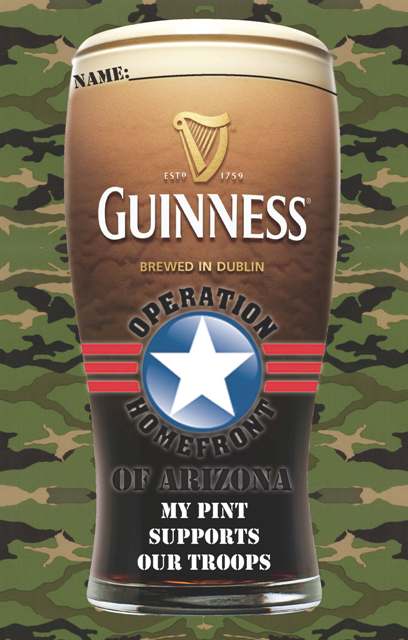 Think about St. Patrick's Day. Though images of clovers and leprechauns might come to mind, Guinness (a k a the unofficial drink of St. Patrick's Day) is more than likely your next thought. And with Alliance Beverage Distribution's Guinness Pint Promotion, buying a pint of Guinness at several Valley eateries and bars can aid the troops. Let's toast to that!
The Guinness Pint Promotion will run through March 31 in Arizona bars, including Seamus McCafery's, Rosie McCaffrey's, Turf Accountant, George and Dragon, Maize's Café & Bistro, Bull Shooters, Celtic Crossing and Pepe's Lounge. During that time, customers can purchase a paper Guinness pint that says "My Pint Supports Our Troops" for one dollar. All proceeds of the promotion will benefit Operation Homefront, a 501(c)(3) that provides emergency and morale assistance for troops and their families. In addition to earning all of the proceeds from each Guinness pint purchased, Operation Homefront will also receive a $100 donation from each participating bar. "I feel it's a privilege to support Operation Homefront," said Stephen Abbate, vice president of sales for the Heritage Division of Alliance Beverage Distributing Co., LLC. "It brings many emotions to me, especially being a father of a Navy Seabee who is serving overseas. Anytime we can help a charity that helps others, we are all winners."
To celebrate St. Patrick's Day, Guinness will sponsor a Flogging Molly concert at Tempe Beach Park. http://www.operationhomefront.net/.