As they say: eat, drink and be merry. Well, I'm happy to help you with the "drink" part of that phrase with two postings devoted entirely to holiday cocktails, both from local restaurants and some of our favorite beverage companies. Check back tomorrow for more divine holiday cocktails.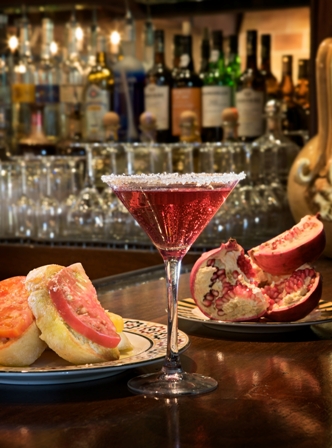 Pomegranate Martini
From Sassi
2 oz. Three Olives Pomegranate Vodka
5 oz. Pomegranate juice
Shake in martini shaker. Serve chilled in sugar-rimmed martini glass.


Eggnog Martini
From Lon's at The Hermosa Inn
1 1/2 oz. Meyer's dark rum
1 oz. Captain Morgan's spiced rum
1/2 oz. Stoli Vanil vodka
3 oz. Eggnog
1/4 oz. Simple syrup
Combine Meyer's dark rum, Captain Morgan's spiced rum, Stoli Vanil Vodka with eggnog and a touch of simple syrup in an ice-filled martini shaker. Shake well, strain and pour into a honey-dipped chilled martini glass with crushed graham cracker rim. Garnish with a cinnamon stick.


Cranberry Paloma
From Roaring Fork
2 oz. 1800 Silver Tequila
1.5 oz. Cranberry Juice
1 oz. Finest Call Simple Syrup
.5 oz. Lime Juice
1 Piece Ruby Red Grapefruit, cut into one-inch by one-inch cubes
Top With Fresca
Muddle the ingredients and shake over ice. Pour contents into glass. Garnish with a mint leaf.
The following recipes are from Three Olives Vodka:


Jingle Bell on the Rocks
2 oz. Three-O Grape Vodka
4 oz. cranberry juice
Splash club soda
Mix in a glass with ice and garnish with a lime wedge.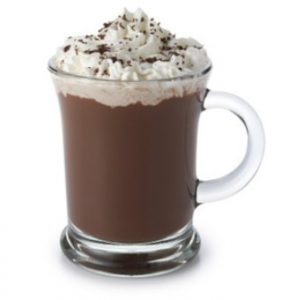 Spiked Three-O Mocha
2 oz. Hot Cocoa
1 ½ oz. Three-O Triple Shot Espresso Vodka
½ oz. Amaretto liqueur
Top with whipped cream and sprinkle with shaved chocolate.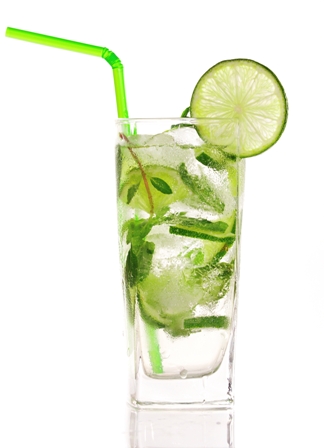 Ho-Ho-Mojito
2 oz. Three-O Pomegranate Vodka
10 Fresh Mint Leaves
1/2 of a Lime
2 tablespoons simple syrup
Club Soda
Muddle mint leaves and lime in a tall cocktail glass. Pour in simple syrup and fill glass with ice, add vodka and soda. Garnish with a mint sprig and lime.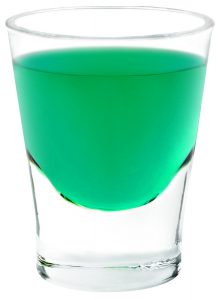 Blue Christmas
1 ½ oz. Three-O Cherry Vodka
¼ oz. black raspberry liqueur
¼ Blue Curacao
Shake with ice and pour into a shot glass.


Snowy Night
1 oz. Three-O Triple Shot Espresso Vodka
1 oz. white chocolate liqueur
1 oz. half and half
Shake with ice and strain into a martini glass. Garnish with three espresso beans.


Candy Cane Martini
From Coole Swan
25 ml. Coole Swan
25 ml. Cranberry Infused Vodka
5 ml. Pomegranate Syrup
Cinnamon
Combine all of the ingredients together in a shaker with plenty of ice. Shake well. Strain into a chilled martini glass.
Garnish with pomegranate seeds and lamed cinnamon or a cinnamon stick. To flame cinnamon: pinch and sprinkle ground cinnamon onto the top of the cocktail over an open flame to release the aroma.