From party-perfect and festive cocktails to potluck-ready dishes, here are a few July 4-inspired recipes to give a go this weekend.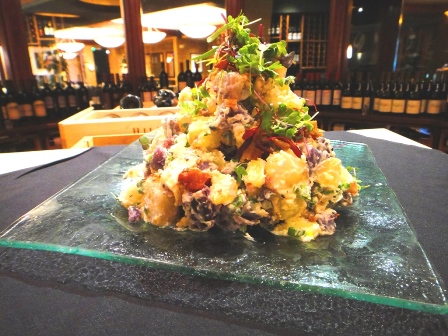 Red White and Blue Potato Salad
From Executive Chef Brian Feirstein of Eddie V's
1 cup of chopped green onion, divided
1 cup of sour cream
½ cup of mayonnaise
1 & ½ tablespoons of Dijon mustard
¼ cup of white wine vinegar
2 tablespoons of sugar
Salt to taste
Crackled black pepper to taste
1 lb. of baby red skinned potatoes
1 lb. of baby blue or purple potatoes
1 lb. of small white creamer potatoes
2 cups/1 10 oz. package of fresh or frozen thawed peas
7 oz. of crumbled blue cheese
Mix ½ cup of green onions with sour cream, mayonnaise, vinegar, Dijon mustard, sugar, salt and pepper. Chill and reserve dressing. Cook potatoes with their skin on in simmering salted water until just cooked, about 10-15 minutes depending upon the size of the potatoes. Cool at room temperature and slice into ½ inch slices. Mix together with cheese, peas, and dressing. Chill, sprinkle remaining green onion on top and serve.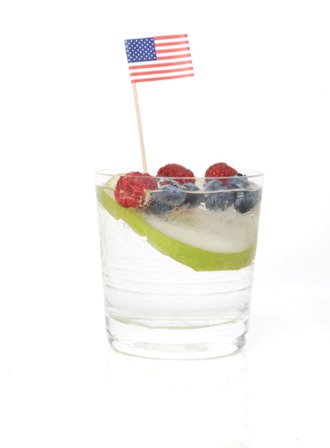 SKYY Infusions Yankee Doodle
1 ½ oz SKYY Infusions Grape Vodka
1 tsp raw sugar
4 slices of fresh peeled ginger
5 large green grapes
Top with soda
Muddle grapes, ginger, and sugar in pint glass. Add ice and SKYY Infusions Grape Vodka. Shake vigorously and strain into cocktail glass over fresh ice. Top with soda and garnish with raspberries & blueberries.


SKYY All-American Blue
2 oz. SKYY Vodka
1 oz. Blue Curacao
2 oz. white grape juice
Splash of soda
Pour all ingredients except soda in a shaker and shake hard. Pour into a highball glass with the ice and garnish with a lime or green apple slice.


SKYY Infusions Cherry Patriot
1 ½ oz SKYY Infusions Cherry Vodka
1 oz. freshly squeezed lemon juice
½ oz Cointreau
½ oz sweet vermouth
¾ rye whiskey
2 oz soda
Mix ingredients in mixing pint over ice. Shake vigorously and strain into tall pilsner style glass and garnish with lemon zest and cherry.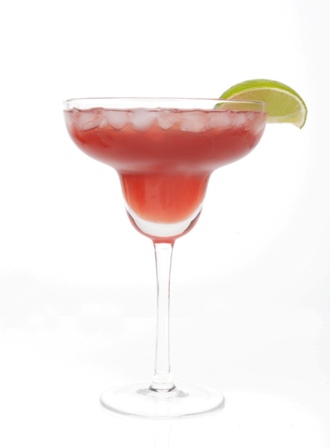 Cabo Wabo Firecracker
Pomegranate Margarita (Recipe compliment of world famous Andres Masso and Jacques Bezuidenhout)
2 shots Cabo Wabo Reposado Tequila
1/4 shot Sugar, syrup
6 Fresh Pomegranate Seeds and Juice
1 shot Fresh Passion Fruit mix
Muddle pomegranate in base of shaker. Add other ingredients, shake with ice and fine strain into chilled glass.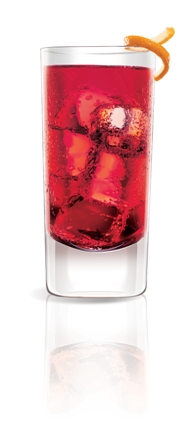 Americano
1 ounce Campari
1 ounce Cinzano Rosso Vermouth
Splash of Club Soda
Pour Campari and Cinzano Rosso Vermouth over ice in a rocks or highball glass. Add a splash of club soda. Garnish with an orange twist.
Sparkling Dutch Red Sangria
1 bottle Dry red wine
3 oz Orange Liqueur
3 oz Van Gogh Pomegranate Vodka
6 oz Grenadine
½ bottle Pomegranate juice
½ bottle Pommery Brut Royal Champagne
1 sliced Orange
Cinnamon sticks
Combine the first five ingredients. Add Champagne and give a quick stir. Pour mixture over ice and add slices of orange. Garnish each glass with a cinnamon stick.