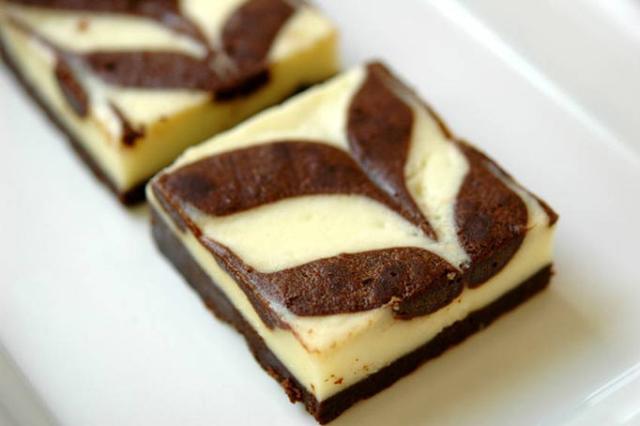 For me, February is jam-packed with birthday celebrations. This week, alone, contains the birthday of three friends–thus, three birthday parties and three desserts that I'll want to whip up for each party. Therefore, when I came across the new cookbook, Sweetness, by Chicago-based pastry chef Sarah Levy, I was very excited to try some of her tasty treats, like Rafael's Righteous Cream Cheese Brownies (recipe below).  Also featured in Sweetness? Mom's Almond Moon Cookies, Amy's Amazing Carrot Cupcakes and Vanilla Bean Chocolate Truffles.
Rafael's Righteous Cream Cheese Brownies
Courtesy of Sweetness cookbook
2 sticks (16 T) unsalted butter, warmed to room temperature
¾ cup unsweetened chocolate (Sarah recommends Valrhona or Callebaut)
3 cups, divided Granulated sugar
½ cup all-purpose flour, sifted
6 large, divided whole eggs, warmed to room temperature
¼ teaspoon salt
2 teaspoons vanilla extract (Sarah recommends Nielsen-Massey brand)
2 ½ packages (1 LB 4oz) cream cheese, warmed to room temperature
Preheat oven to 300 degrees F. Melt together the butter and chocolate in a double boiler or microwave. Transfer to a large mixing bowl. Using a whisk, blend 2 cups of sugar and the salt into the chocolate-butter mixture. Slowly add 4 of the eggs to the mixture, 1 at a time. In 3 separate batches, add in the flour. Add the vanilla. In the bowl of a stand mixer fitted with the paddle attachment, or in a mixing bowl (if using a hand mixer), beat together the cream cheese and remaining 1 cup sugar until smooth (about 2 minutes), and then add the remaining 2 eggs, 1 at a time. (For the step, it is best to use a stand mixer fitted with the paddle attachment, but you can use a regular mixing bowl and a hand mixer if necessary.) Measure out 1 ½ cups of the chocolate mixture and set aside to use as a topping. Pour the remaining chocolate mixture into the greased 9 x 13-inch pans. Spread the cream cheese mixture on top of the chocolate mixture. Fill the piping bag fitted with the #804 tip with the reserved chocolate mixture. Pipe lines along the width of the brownies, about 1 inch apart. Run the paring knife through the length of the brownies (in the opposite direction of the piped lines you created), creating a pretty streaking effect. You can also use the knife to make "swirls" of whatever design you would like. Bake at 300ºF for 60 minutes. Cool completely in the pans. After they cool completely at room temperature, refrigerate them in the pans for at least 4 to 5 hours before slicing. Yield: Makes about 36 brownies.