Sisters and Arizona State University students Jill and Meghan Carle are at it again with the new cookbook, College Vegetarian Cooking (http://www.randomhouse.com/crown/tenspeed/). The talented twosome also penned the popular Teens Cook Dessert (I think this book has the best sugar cookie recipe) and College Cooking cookbook. With their newest work, College Vegetarian Cooking, the sisters provided–you guessed it–healthful vegetarian recipes to encourage students to create their own dishes, all the while avoiding the dreaded Freshman 15. Check back tomorrow for two more delish recipes from College Vegetarian Cooking. P.S. I think this book would make an amazing gift for the back-the-schooler in your life.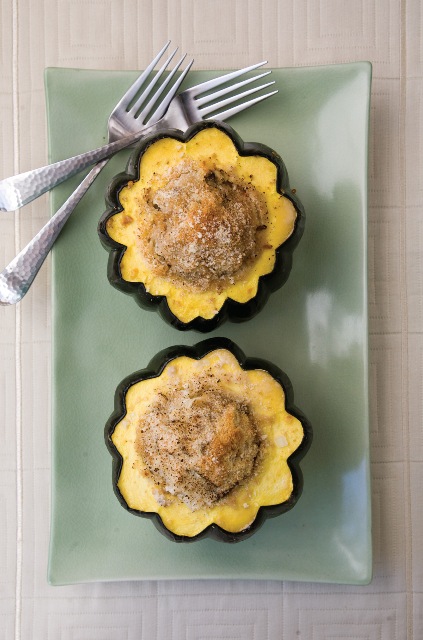 Stuffed Acorn Squash
Serves 2
2 large acorn squash
1/2 onion
4 ounces mushrooms
3/4 C ricotta cheese (see Cooking 101, below)
3/4 C grated Swiss cheese
1 egg
1/2 tsp. ground nutmeg
Salt and pepper
1/4 C breadcrumbs
Up to four hours before mealtime, cut a small slice off one side of each squash so they'll sit fl at. Cut off about one-fourth of the opposite side of the squash (to give you access to the hollow in the middle) and discard. Scrape out the seeds and strings with a spoon.
Peel the onion and cut into 1/8- to 1/4-inch pieces. Cut the ends off the mushroom stems, discard, and cut the mushrooms into 1/4- to 3/8-inch pieces. Combine the onion, mushrooms, ricotta cheese, Swiss cheese, egg and nutmeg, and stir well. Season with salt and pepper. Place the squash in a baking dish, spoon half of the cheese mixture into each squash, then sprinkle the breadcrumbs over the cheese. Cover with plastic wrap and refrigerate until ready to bake.
About 1 1/2 hours before mealtime, preheat the oven to 375°F. Remove the plastic wrap and bake the squash for one hour, or until a fork slides easily into the squash. Place each squash in a shallow bowl and serve immediately.
Cooking 101: Ricotta
Heat 1/2 gallon of whole milk to 200°F, stirring frequently to keep it from scorching. When it reaches 200°F, stir in 2 tablespoons of fresh lemon juice. It will instantly curdle (if it doesn't, keep heating). Remove from the heat and let stand for five minutes. Line a colander with a couple layers of cheesecloth and slowly pour in the milk mixture. Allow it to drain until the cheesecloth is cool enough to handle. Gather the ends of the cheesecloth together and tie into a bag. Suspend the bag over the sink and allow to drain for 1 hour, then use or refrigerate.
"Reprinted with permission from College Vegetarian Cooking: Feed Yourself and Your Friends. Copyright © 2009 by Megan Carle and Jill Carle, Ten Speed Press, A division of Random House, Inc., Berkeley, CA. Photo Credit: Penny De Los Santos."