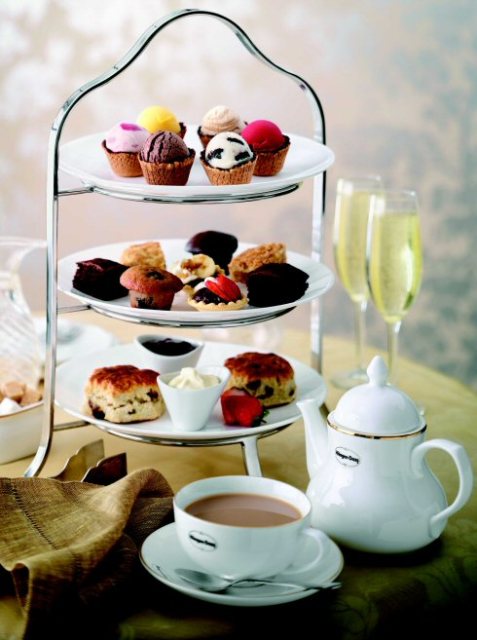 One of the best ways to warm up is with a cup of tea–especially when served in a posh resort during a five-star High Tea. High Tea guests get to act like royalty, sipping top-notch teas from gorgeous teacups and nibbling on tasty finger sandwiches and bite-size desserts. The best part? Pinkies up are optional.
Plus, tea is loaded with goodness that'll help you start the year off in a healthful way. Tea can help boost immune system, it has anti-cancer properties, lowers stress, boosts mental alertness, increases metabolism, helps in cardiovascular health and even helps to allieviate bad breath.  Here are three Phoenix and Scottsdale high teas to check out while there is still a chill in the air.
Afternoon Tea at The Ritz-Carlton, Phoenix Starting Jan. 12, The Ritz-Carlton, Phoenix will debut a brand new afternoon tea experience. The luxe afternoon tea will include a menu of tea-infused sandwiches and pastries, an expanded list of organic teas include in six unique herbal botanical blends to promote wellness, a variety of new presentational surprises, and even Jeffrey Hattrick, Ritz' resident tea sommelier (yes, the posh Phoenix resort has its very own tea sommelier!), will have a new look. The Ritz-Carlton, Phoenix even offers special seasonal Afternoon Teas, including its popular Christmas high teas. The afternoon tea is available every Wednesday through Saturday, 12 to 3 p.m. $36 per person. 2401 E. Camelback Rd., Phoenix, 602.468.0700.
www.ritzcarlton.com.
High Tea at Arizona Biltmore Resort & Spa Phoenix's Arizona Biltmore Resort celebrates its 81st anniversary of serving A-plus High Tea in the Valley. Guests are invited to the Lobby Tea Court every Thursday through Sunday afternoon to indulge in tea sandwiches that include deviled egg salad, house-smoked salmon mousse and oven orange-glazed ham; finger-licking desserts like dried blueberry scones, apricot opera cake, fresh raspberry tarts and more; and an amazing selection of teas (including kosher and organic options) and cocktails. 2400 E. Missouri Ave., Phoenix, 602.381.7603,
www.arizonabiltmore.com.
Afternoon Tea at The Phoenician During the afternoon, The Phoenician Resort's Lobby Tea Court welcomes guests to its high-class Afternoon Tea. Guests get comfortable in high-back chairs and couches and take part in a full tea rounded out with finger sandwiches, unbelievable scones with Devonshire cream and delicious preserves and pastries served on gorgeous tiered platters. Most important, The Lobby Tea Court serves up a wonderful a selection of fine tea blends. To add to the relaxing, regal atmosphere, classical music fills the air. 6000 E. Camelback Rd., Scottsdale, 480.941.8200, www.thephoenician.com.