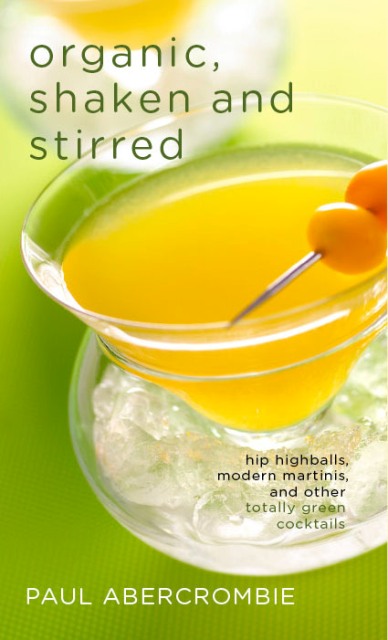 Scottsdale's Camelback Inn will be busy, busy, busy in the next few weeks with fab events. First off, on April 20 from 5:30 to 7 p.m., author Paul Abercrombie will be kicking off the launch of his new book "Organic, Shaken and Stirred." The surefire hit of a book features 100 eco-friendly, organic cocktails from bars and lounges across the country (along with a few new creations by the author). "Organic, Shaken and Stirred" also provides info on today's producers of organic vodka, gin, tequila, and other spirits—a new generation of small-scale producers who believe in sustainable agriculture, traditional methods, and environmentally sound practices. Camelback Inn's Director of Beverage, Trudy Thomas, will also be on hand at the event to craft a few of her signature organic cocktails that are featured in the book. (One to look out for is the Elderflower Fizz made with Square One organic vodka, Elderflower, fresh thyme, house-made lemon sour, and Gruet Brut–so spring-y!) There will also be mini spa treatments, like hand treatments and chair massages, for the guests to enjoy–ooh la la! The event will be held at the Camelback Inn Spa's Sprouts dining area. It is $30 per person, and includes a hardcover copy of the "Organic, Shaken and Stirred" book (a $19.95 value).
Then, on May 1, BLT Steak will celebrate the Kentucky Derby with a special Derby Day party. From 1 to 5 p.m., for $36, guests can enjoy Derby-inspired eats and drinks while watching the big race. Additional Race Day activities include, Best Derby Hat Contest, Zaniest Derby Hat Contest and other activities with prizes including gift certificates and a limited-edition Woodford Reserve Official 136th Derby Bottle. Here's the special Derby Day menu:
Beef Short Rib Burgoo
Smoked Turkey Hot Brown
Country Ham & Chive Cheddar Biscuits
Rock Shrimp & Cheesy Grits
Derby Chocolate & Pecan Pie
The Authentic Mint Julep $6
Early Times, sugar, spearmint
Prohibition- Era Derby Cocktails $12 :
Raspberry Mint Julep
Woodford Reserve Bourbon, raspberries, spearmint
Mint Julep has been the signature drink of the Derby since 1938 when it was first served in a souvenir glass for 75 cents a drink
Bluegrass Moon
Grey Goose Le Orange, crème de violette, lemon (inspired by the Blue Moon Cocktail)
Racing for Roses
Woodford Reserve Bourbon, Sence Rose Nectar, Cointreau, strawberry essence, sparkling wine (inspired by the Seelback Cocktail)
Churchill Downs Cocktail
Grey Goose, St. Germain Elderflower, apricot, lime, peach bitters (inspired by the Pendennis Cocktail)
Be sure to reserve your spot for the festivities. 480.905.7979, http://www.bltscottsdale.com/.