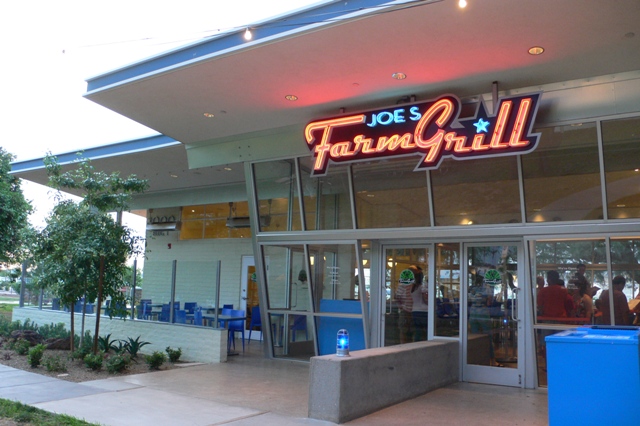 One of our favorite Gilbert restaurants, Joe's Farm Grill, is honoring Food Network's "Diners, Drive-ins and Dives" with this March's Triple-D month. (The restaurant was featured on the show, hosted by Guy Fieri, in 2008 on its "Real Deal Fast Food" episode.) Throughout the month, Joe's Farm Grill will feature food specials, cooking demos and fun contests. Here's what Joe's patrons can look forward to throughout the month:
Phoenix Area Showings of "Real Deal Fast Food" on Food Network: March 15 at 10p, March 16 at 1a, March 26 at 9p
Special Deals, All Month
The Guy Fieri Meal – Everything shown on TV ($37 value) on special at $31.99
Eat the Whole Show – Eat every item shown on TV and mentioned in the episode during the month and you get an entry into the big raffle
Weekly Themes
Red Camaro Week (3/8-3/14): Drive up in a red Camaro, you and up to three passengers dine for free (max $10 per person), one time only
Is That You, Guy? Week (3/15-3/21): Dress like Guy and you get $5 off your meal. You will be photographed and entered in the best look alike contest. Winner gets a $500 gift card.
Triple-D Trivia Week (3/22-28): Fill out the trivia quiz for Joe's Triple-D episode. Get it right and you are entered into the big raffle
Weekend Events
Every Saturday: Chef Chad demonstrates how to cook some of the foods from the episode at home (2p-3p), an onion ring eating contest and cookbook signing by Chef Chad and Joe Johnston.
Sunday, March 28: The Big Raffle – people earn entries all month, now the drawing! Grand prize is a $1,000 gift card.
Joe's Farm Grill is located at 3000 E. Ray Rd. Gilbert. 480.563.4745, www.joesfarmgrill.com.
And be sure to pick up the April issue of Arizona Foothills Magazine for our Q&A with "Diners, Drive-ins and Dives" host, Guy Fieri.