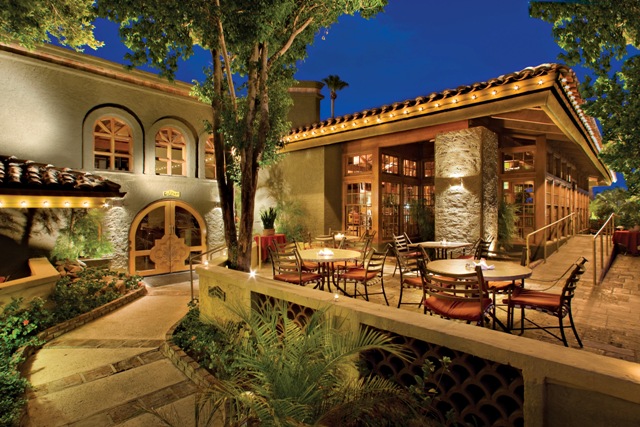 On July 28, beer lovers are invited to imbibe on local craft brews–all the while raising funds to help fight brain cancer. Rico's American Grill (pictured), located at the Pointe Hilton Squaw Peak Resort in Phoenix, has teamed with four local breweries–Sun Up Brewing Co., SanTan Brewing Co., Grand Canyon Brewing Co. and Sonoran Brewing Co.–to host a special evening to benefit brain cancer research, resulting in a six-course meal of fine food skillfully paired with local beers. Proceeds from the event will benefit the Beer for Brains Foundation, a Peoria-based non-profit that brings together craft beer lovers in the battle against brain cancer. Proceeds raised by Beer for Brains are donated to Phoenix's Barrow Brain Tumor Reasearch Center, a leading institute for brain tumor imaging, brain tumor surgery, cancer research and stem-cell science in the United States.
The event will startwith a 6:30 p.m. appetizer reception followed by a seated six-course meal prepared by Rico's Executive Chef Kenneth Arneson.
· Scallop Wrapped Pork Belly with lemon grass, sweet chili plum and sweet corn panacotta. Paired with Sun Up Trooper IPA and SanTan Devil's Pale Ale.
· Seared Veal Loin with crispy sweetbreads, cotija crusted quesadillas and charred corn relish. Paired with Grand Canyon Amber and SanTan Hefeweizen Wheat.
· Desert trio of Frangelico laced pumpkin French toast with drunken local fig, goat cheese and caramel profiterole and Salt River citrus vanilla crème brûlée. Paired with Sonoran White Chocolate Ale and SanTan Cherry Infused Stout.
Tickets to the event are priced at $59 each, plus tax and gratuity. Reservations can be made by calling 602.997.5850 or visiting http://www.squawpeakhilton.com/.