I know Litchfield Park in the West Valley isn't exactly the most convenient of spots for most of us to travel to. However, the area's Wigwam Resort & Spa has given you a reason that will definitely make the trip worthwhile. On Thursday, Feb. 26, the stellar resort will host an "Old World meets New World" wine dinner featuring bottles from Laurent Drouhin, great grandson of the legendary Joseph Drouhin of France (he is famous for his pinot noir). Drouhin co-owns the family business with wineries in Burgundy and Oregon.

The evening will start at 7 p.m. at Red's Steakhouse for a brief reception and will move to Arizona Kitchen at 7:30 p.m. for an exquisite four-course dinner prepared by Executive Chef Kurt Zuger. (Side note: Red's Steakhouse makes for a wonderful special-occasion restaurant. Father's Day…your hubby's birthday…or if you're just in the mood for a carnivorous feast. Red's steaks are truly among the top two or three in the Valley. Again, it is worth the trek to Litchfield Park. Both Red's Steakhouse and Arizona Kitchen are AAA Four Diamond award winners.)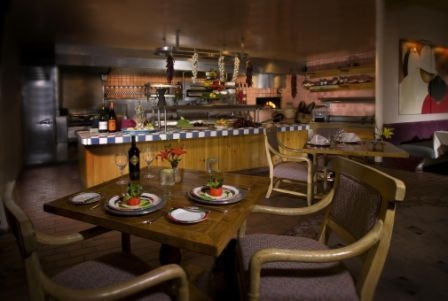 Call 623.764.1142 to book your reservation. Dinner is $95, plus tax and gratuity, or $85 for Wigwam Wine Society members. Just what is the Wigwam Wine Society, you ask? Well, according to the Wigwam Resort's Web site, it is the West Valley's leading social wine and food club. The club is dedicated to the appreciation of fine wine and food. Members enjoy exclusive monthly epicurean events at The Wigwam Golf Resort & Spa. It is geared toward satisfying your inner oenophile and expanding your wine knowledge via its socially oriented organization devoted to the exploration and enjoyment of the world's viniculture and food. Member benefits include a $10 discount on each wine dinner; a monthly e-newsletter giving you the latest on events, activities and information about wine and food; a 10% discount on any purchase of a wine bottle at Red's Steakhouse; and monthly mixers at no charge to the Wigwam Wine Society members. Mixers are held on the Saturday two weeks prior to the wine dinner and will include passed hors d' oeuvres and tasting of two wines selected by Resort Sommelier Mathew Davis from 4:30 to 5:30 p.m. at Red's Bar. Sounds like fun to us! You can purchase membership for yourself or a friend at www.wigwamresort.com. 300 E. Wigwam Blvd., Litchfield Park.