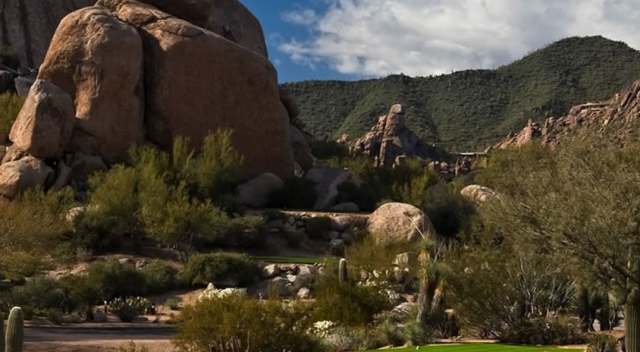 After closing its doors for four months, The Latilla at The Boulder Resort and Golden Door Spa in Carefree is back and better than ever–all the while celebrating regional cuisine and regional art. Today, The Latilla debuts is brand new look, a new menu and a new vibe; however, the restaurant is still keeping its integrity and regional sense of place. With new upbeat music and an attentive yet relaxed service staff, the restaurant will set a casually sophisticated stage for seeing and to be seen–and, of course most importantly, enjoying an amazing meal in a locally inspired space.
Latilla's amazing culinary team of Executive Chef Michel Pieton and Executive Sous Chef Gregory Wiener, have crafted the menu as a masterpiece. The New American Fare, inspired by flavors of the Southwest, is flavorful yet healthy; rich yet affordable; and creative yet familiar with comfort foods such as the famed Boulders Burger infused with gruyere cheese.
Latilla's new décor is as fresh, warm and inviting as its new menu. The AAA four-diamond signature restaurant has been transformed into a comfy and casually elegant oasis of rich, vibrant colors, stunning regional artwork and inspired décor. Saturated hues of blue, persimmon, chocolate and maize are pulled right from the desert landscape. The voluminous space features dramatic suede drapes in shades of indigo that are used to create more intimate areas throughout. Cappuccino and putty wall colors add to the coziness and define architectural details. Guests are embraced in high wing chairs swathed in rich persimmon-colored textured leather seats with walnut arm rests. Banquettes are clad in maize-colored leather with accent details while banquettes spaces are defined with an indentation, or "river," filled with polished river rocks and hurricane candles delicately placed on top. The new and improved resort restaurant also features romantic, intimate lighting (think flickering hurricane candles, lamps that give off a soft glow and new lighting that shows off the latilla ceiling) as well as unique table settings, that recall the Grand Canyon, by local artist Douglas Wiegel.  The Latilla restaurant is now equally comfortable for golfers in casual attire after a day of golf to cocktail attire and a special night out.
Other plans for The Latilla include monthly wine dinners beginning Oct. 18, featuring Renteria Vineyard. Wine dinners scheduled for 2010 will be held in February, April and May. The Boulders Resort & Golden Door Spa, 34631 N. Tom Darlington Dr., Carefree, 480.488.7316, www.theboulders.com.