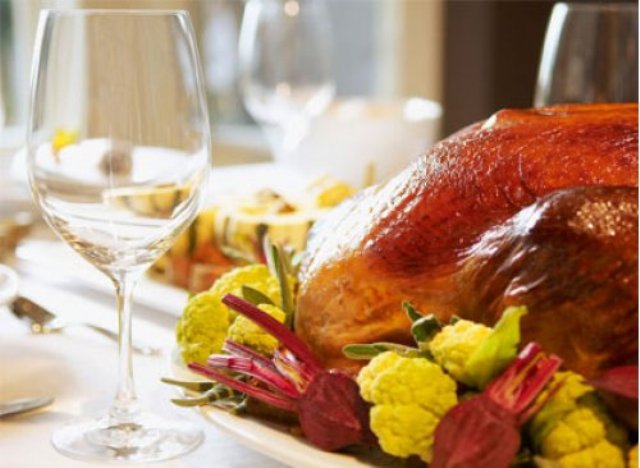 Looking to make reservations instead of stuffing and sweet potatoes for Thanksgiving? Here's a roundup of local restaurants that are dishing up turkey and all the trimmings–as well as some unique eats–this Thanksgiving.
The Heard Museum in Phoenix is teaming up once again with celebrated chef Freddie J. Bitsoie for the second annual Harvest Feast, held on Thanksgiving Day from 11 a.m. to 3 p.m. The "edible gallery" will put a contemporary spin on time-honored Native American food traditions. Adult museum members, $60; adult non-members, $70; children 12 and under, $30. http://www.heard.org/.
FireSky Resort and Spa's Taggia restaurant, located in Scottsdale, is planning a special Turkey Day feast with festive a la carte menu items like grilled apple-glazed pork chops, carrot and saffron soup, butternut squash ravioli and pumpkin budino. http://www.taggiascottsdale.com/.
The Boulders' signature Latilla restaurant celebrates the Thanksgiving holiday with a prix fixe, four-course menu celebrating the flavors of the season. Menu items include braised short ribs, salmon, pumpkin tarts and much more. Adults, $78; children ages 6-12, $29; and children 5 and under are complimentary. http://www.theboulders.com/.
A decadent buffet at Rico's American Grill in Phoenix will feature carving stations for golden-basted turkey, herb-rubbed rib-eye and bourbon glazed ham, as well as a customizable pasta station. Adults $49; $13 for children ages 12 and under. http://www.ricosag.com/.
 
Phoenix's Different Pointe of View will offer an elegant twist on the traditional Thanksgiving feast with carving stations, seasonal vegetables and decadent desserts designed by Chef Anthony DeMuro. Adults $59.95; $29.95 for children ages 10 and under. http://www.differentpointeofview.com/.
The signature Top of the Rock restaurant at the Buttes Resort in Tempe will be celebrating the Thanksgiving holiday with a brunch featuring holiday stuffing, squash, turkey, pumpkin and more. Adults, $64.95; $29.95 for children 5-12 years. http://www.marriott.com/.
From Nov. 20-23, Texaz Grill in Phoenix is offering chicken-friend turkey, which will be smothered in a slow-cooked, savory gravy and paired with a side of mashed potatoes and homemade cranberry sauce. http://www.texazgrill.com./
A five-course dining experience will be served in Arizona Biltmore's signature restaurant, Wright's, complemented with perfectly matched wine pairings by the sommelier. Courses include cracked-pepper turkey breast and chocolate-pecan ganache. Adults $80; children 12 and under $40; infants free. http://www.arizonabiltmore.com/.
A three-course family-style Thanksgiving dinner at Frank & Albert's will feature a traditional menu favorites. Think turkey with the trimmings and pumpkin pie. Adults $45; children 12 and under $21; infants free. http://www.arizonabiltmore.com/.
At District American Kitchen & Wine Bar in Phoenix, the Thanksgiving menu showcases three courses of artisan products, herbs from the restaurant's rooftop garden and sustainably farmed produce from local growers. The entree course includes roasted turkey with gravy, cornbread and andouille stuffing, marshmallow yams, orange-scented green beans, mashed potatoes and cranberry relish. $31 for adults; $15.50 for kids; $15 extra for 6 oz. wine pairing. http://www.districtrestaurant.com/.
The three-course modern Mexican menu at Fairmont Scottsdale Princess' La Hacienda features pavo en mole rojo, roasted turkey breast, boniato and braised chard with cranberry-pepita relish. $24 for adults; $12 for kids 6-12; free for children 5 and younger with the purchase of an adult entree. www.fairmont.com/scottsdale.com.
The entree course of Bourbon Steak's three-course Turkey Day menu spotlights a heritage turkey dinner with duck fat fried breast and leg confit, with savory bread stuffing, Bourbon-pecan yams and brown sage gravy. $53. www.fairmont.com/scottsdale.com.
Get to the Thanksgiving buffet at Blue Sage at JW Marriott Desert Ridge Resort to indulge in elaborate seafood, antipasto, breakfast, meat, pasta and dessert stations. $65 per adult; $32.50 for children ages 12 and under. http://www.jwdesertridgeresort.com/.
Tuscany, also at Phoenix's JW Marriott Desert Ridge Resort, will dish up a delectable three-course menu, rounded out with family-style sides. $49 for adults; $24.50 for children ages 12 and under. http://www.jwdesertridgeresort.com/.
The regular menu at Hotel Valley Ho's ZuZu will be offered along with a three-course, a la carte holiday menu featuring butternut squash soup, slow-roasted Red Bird Farms turkey, and pecan and pumpkin Pie. Turkey is also featured as a children's special. http://www.hotelvalleyho.com./  
The Turkey Day brunch at Il Terrazzo at The Phoenician features a carving station with roasted turkey and prime rib, entrees of grilled swordfish and pork loin, accompanied by mashed potatoes and chestnut ciabatta stuffing, to name a few of the delicacies. $95 per adult; $44.50 for children 3-12; children under 3 complimentary. http://www.thephoenician.com/.
Chef Eddie Matney of Old Town Scottsdale's Eddie House is dishing up a divine Thanksgiving Day menu, as well as a to-go menu of turkey, sweet potatoes with marshmallow gravy, stuffing, garlic green beans, soft dinner rolls and so much more. http://www.eddieshouseaz.com/.  
Carefree Station is preparing a Thanksgiving feast that can either be ordered ahead of time to enjoy at home or in the Carefree restaurant. The three-course, prix-fixe menu includes a variety of Thanksgiving favorites, with Carefree Station's special twist. $36 for adults; $14 for children 12 and under. http://www.carefreestation.com/.