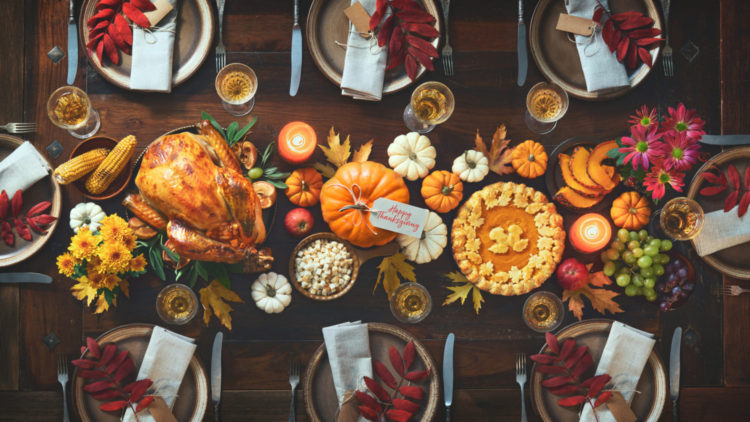 Want to enjoy a Thanksgiving with hardly any mess or clean-up? AZFoothills put together some of the Valley's best Thanksgiving Day meal options for your friends and family. Have a great Turkey Day Arizona!
Celebrate Thanksgiving with Family and Friends at Hyatt Regency Scottsdale Resort & Spa
Hyatt Regency Scottsdale Resort & Spa at Gainey Ranch invites Valley residents to celebrate Thanksgiving Day with a special Thanksgiving Brunch Feast on Thursday, November 26, 2020.
SWB's Thanksgiving Feast Buffet offers a variety of holiday favorites including:
Omelets prepared-to-order
Sweet and Savory Pastries
Smoked Scottish Salmon
Jumbo Shrimp
Alaskan Crab Legs
Antipasti Display including domestic and imported meats, pates, and cheeses
Quesadilla and Taco Stations
Gourmet Pasta Station
Herb-Roasted All-Natural Turkey with all the trimmings
Prime Rib of Beef, and Brown Sugar Ham with Caramelized Pineapple and Cinnamon from the Carving Station.
Available as entrée selections are Whipped Potatoes, Root Vegetable Hash, Roasted Salmon with wilted Spinach, Apple and Fennel, and Free-Range Chicken with Creamed Orzo, Lemon and Blistered Tomato and more.
Finish the Feast with elaborate dessert selections: Pumpkin, Pecan, and Apple Pies, Cheesecake and Cherry Tartlets, Caramel and Chocolate Dipped Apple Wedges, Warm Fudge Brownie, plus much more. There will even be a special buffet just for the kids!
Thanksgiving Feast Brunch Buffet will be served on Terrace Court with Live Entertainment from 11:00 a.m. – 5:00 p.m. and is $105.00 for adults, $120.00 with unlimited Champagne and Bloody Mary Bar, $48.00 for children ages 6-12 and complimentary for children 5 and under. (Price excludes tax and gratuity.) Reservations are required.
To ensure a safe, healthy and memorable Thanksgiving, all tables will be socially distanced and tables assigned for each individual party, no larger than 10 people per table. Staff will be prepared with appropriate protection around all serving tables.
The resort has ample sanitation stations throughout, along with distancing signage for reminders and enforcement. Staff will be serving each guest from the buffet to limit frequency of handling serve ware.
Breakfast Menu will be available in SWB from 7:00 a.m. – 10:30 a.m. and at Center Stage Bar lunch will be available from 11:00 a.m. – 11:00 p.m. and dinner will be served in SWB from 5:00 p.m. – 9:00 p.m.
For reservations and more information call 480-444-1234, ext. 8650.
Match Market & Bar at the FOUND: RE Phoenix Hotel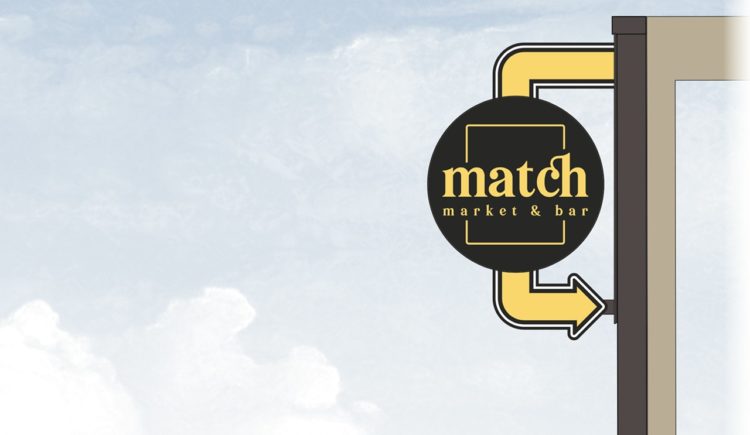 On Thanksgiving Day, FOUND:RE Phoenix Hotel guests and local residents alike are invited to come together in celebration of the holiday with a traditional turkey dinner at Match Market & Bar (MMB), the hotel's all-new signature dining concept. The three-course meal (plus a welcome drink to sip upon arrival and dessert) includes:
Welcome Drink — Choice of a glass of red or white wine
First Course — Two Deviled Eggs with bacon jam, egg yolk mousse, bacon crumbles, smoked paprika, and basil
Second Course — Choice of a house salad or cream of mushroom soup
Third Course — Roasted turkey, country mashed potatoes with house-made gravy, and brussels sprouts with crispy pancetta
Dessert — Choice of a slice of pumpkin pie or chocolate pie
Seating for dine-in Thanksgiving dinner is at 4:00 p.m.; cost is $60 (plus tax and gratuity). Reservations must be made by noon on Saturday, November 21, and can be made by calling 602-875-8080 or via email to info@matchphx.com.
Those that prefer to dine at home this Thanksgiving can still enjoy a delicious chef-made meal without the hassle of cooking it with MMB's Thanksgiving To Go option. The prepacked dinner is $45 per person (plus tax and gratuity) and includes:
Two Deviled Eggs
Choice of House Salad or Cream of Mushroom Soup
Roasted Turkey
Country Mashed Potatoes
House-made Gravy
Brussels Sprouts with Crispy Pancetta
Choice of a slice of Pumpkin Pie or Chocolate Pie
Preorders for MMB's Thanksgiving To Go must be made by noon on Saturday, November 21. Pick-up times will be scheduled at upon ordering. Call 602-875-8080 or email info@matchphx.com to place an order. For more, visit www.matchphx.com.
Date: Pre-order and reservations by noon on Saturday, November 21; Dine-in Thanksgiving Dinner: Thursday, November 26
Time: Dine-in seating: 4:00 p.m.; pick-up times for Thanksgiving To Go arranged upon ordering
Location: Match Market & Bar – 1100. N. Central Ave., Phoenix 85004
Keeler's Neighborhood Steakhouse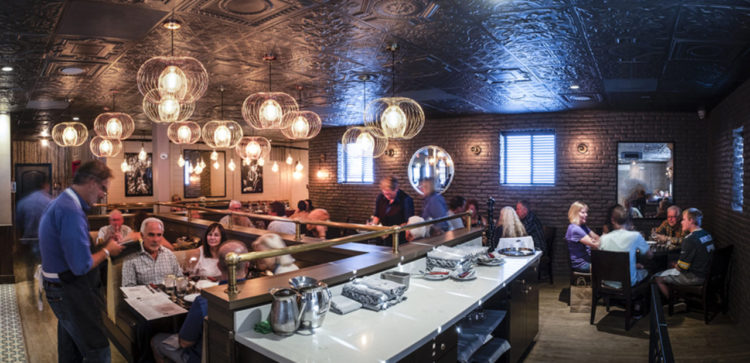 This Thanksgiving, Keeler's Neighborhood Steakhouse invites diners to take the pressure and hassle out of the holiday by letting their chefs create the traditional meal for the whole family. Beginning at noon on November 26, with the last seating at 6:00 p.m., Keeler's is offering the following menu:
Appetizer, choice of:
Keeler's Chopped Salad
Classic Caesar Salad
French Onion Soup
Butternut Squash Bisque
Entrée, choice of:
Traditional Turkey Dinner with green beans, chef's stuffing, mashed potatoes, turkey gravy, and cranberry sauce
12-ounce Slow Roasted Prime Rib with grilled asparagus, mashed potatoes, au jus, and horseradish cream
12-ounce Prime Top Sirloin Baseball Cut with grilled asparagus and mashed potatoes
Kimbo River Salmon with asparagus-risotto and green beans
Dessert, choice of: Apple or pumpkin pie
The cost for the three-course meal is $65; guests may also choose any course a la carte for $12 per appetizer or dessert, and $45 per entrée. Reservations can be made online at www.keelerssteakhouse.com or by calling (602) 374-4784.
Date: Thursday, November 26
Time: Noon-6:00 p.m. (last seating)
Location: Keeler's Neighborhood Steakhouse – 7212 East Ho Hum Road, Carefree
Thanksgiving at the The Boulders Resort & Spa's Grill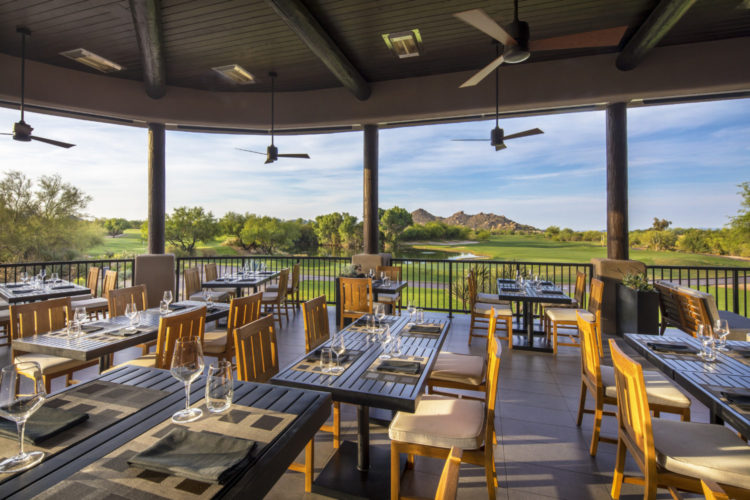 WHAT: Thanksgiving at the Grill
WHEN: Thursday, November 26, 2020 from 4:00pm-10:00pm
WHERE: The Grill at the Boulders Resort & Spa – 34631 North Tom Darlington Drive, Carefree, AZ 85377
INFO: The Boulders' Grill Restaurant celebrates the Thanksgiving holiday with a three-course, specialty menu featuring festive, holiday items on Thursday, November 26th.

Menu options include:
Fall Mixed Salad served with Arugula, Shaved Brussels, Roasted Winter Squash, Pomegranate, Roasted Pumpkin Seeds and Aged Sherry Vinaigrette
Butternut Squash Soup with House Crème Fraiche, Spiced Seeds and Whole Grain Crostini
Roasted Turkey served with Wild Mushroom Stuffing, Mashed Potatoes, Haricot Vert, Cranberry Sauce and Turkey Gravy
Pepper Crusted Prime Rib with crisp Baby Potatoes, Herbed Asparagus, Roasted Baby Onions, White Garlic and Horseradish Jus
Seared Sea Bass served with White Carrot Risotto, Wilted Spinach, Caramelized Onions, Shaved Radish, Baby Greens and Pickled Mustard Seed
Pecan Pie with Bourbon Caramel
Pumpkin Pie served with Brown Sugar | Whipped Cream
COST: $52.00 per person
CONTACT: For reservations, please contact 480.595.4621 or visit the website at www.theboulders.com
Z' Tejas Thanksgiving To-Go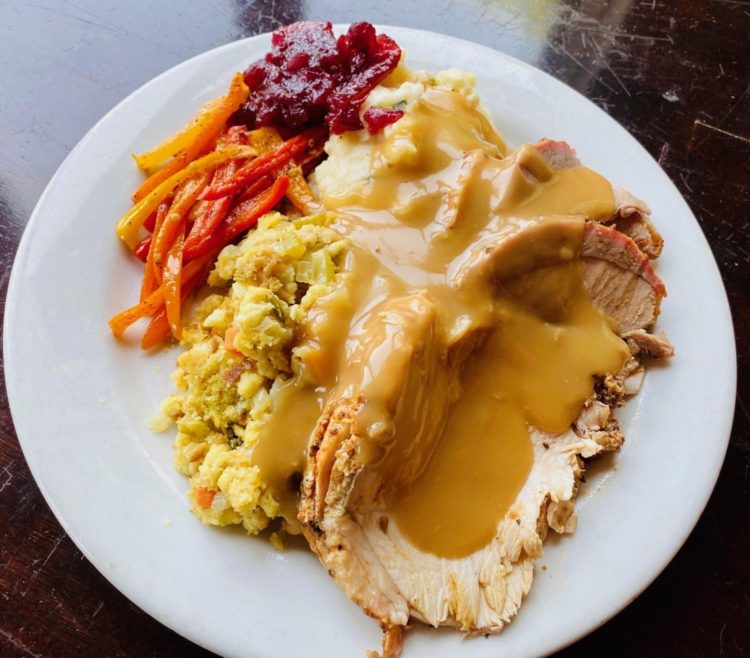 Z'Tejas, known for serving Southwestern cuisine with bold flavors using the freshest ingredients is offering a family-style Thanksgiving meal to-go!
Sliced and deboned turkey, Poblano mashed potatoes, cornbread stuffing, fall mixed veggies, cranberry sauce and, chorizo gravy, plus a gallon of iced tea or lemonade is on the menu!
This will feed serves 4 to 6 people and costs $75.
Guests will have the option to add on a pumpkin cheesecake or ancho fudge pie for dessert.
Additionally, guests can dine-in on Wednesday, Nov. 25, and try this plate of Thanksgiving goodness as a dinner special.
Z'Tejas has two locations in the Valley at 7221 W. Ray Rd. in Chandler and 10625 N. Tatum Blvd. in Phoenix. For more information visit www.ztejas.com
Gabriella's Contemporary American Cuisine

Gabriella's Contemporary American Cuisine invites Thanksgiving revelers to enjoy a celebratory feast that they don't have to make — featuring both dine-in and take-out options so families can celebrate the holiday however they feel comfortable.
On Thursday, November 26, guests can dine like family at Gabriella's featuring a three-course menu plus dessert including:
First Course — Butternut Squash Bisque topped with crème fraiche
Second Course — Mixed Greens and Shaved Apple Salad with candied walnuts and house balsamic vinaigrette
Main Course — Roasted Turkey with pan gravy, herbed dressing, green beans topped with sliced almonds, and garlic mashed potatoes
Dessert Course — Pumpkin Pie with Chantilly Cream
Thanksgiving dine-in service is 5:00 p.m. and 7:00 p.m. and cost is $46 per person (plus tax and gratuity).
Little ones can enjoy the "For the Kids" option featuring Creamy Mac and Cheese with sliced turkey breast and cranberry compote for $18. Reservations can be made online at www.gabriellasscottsdale.com or by calling 480-534-7625.
For those that wish to take their Turkey Day meal to go, Gabriella's offers the following menu available for a minimum of four for $35 per person and including:
Sliced Turkey Breast
Pan Gravy
Cranberry Compote
Dinner Rolls
Mixed Greens Salad with shaved apples, candied walnuts, and balsamic vinaigrette
Garlic Roasted Mashed Potatoes and Gravy
Green Beans topped with lemon vinaigrette and sliced almonds
Creamy Macaroni and Cheese
Traditional Pumpkin Pie
A Bottle of Prosecco
Pre-orders for Thanksgiving To Go must be received by Monday, November 23 at 6:00 p.m. via phone or email: hello@gabriellasaz.com; pick up times on Wednesday, November 25 will be arranged at time of order.
Date: To Go pre-orders must be received by Monday, November 23 at 6:00 p.m.; Pick up: Wednesday, November 25; Dine-In: Thursday, November 26
Time: Dine-In: 5:00 p.m. and 7:00 p.m. seatings.
Location: Gabriella's Contemporary American Cuisine – 10155 E. Via Linda Rd., #H134, Scottsdale
Celebrate Thanksgiving with Dickey's Barbecue Pit's Holiday Feasts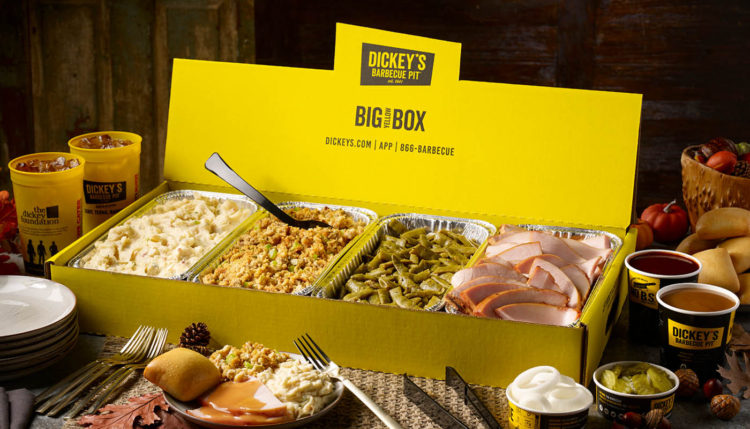 From family gatherings to socially distanced celebrations, Dickey's Barbecue Pit has everything you need to enjoy a stress-free Thanksgiving!
There is a lot to be grateful for this holiday season including the convenience of Dickey's new Holiday catering options. This year, Dickey's fans can order individualized holiday box lunches containing slow-smoked carved turkey sandwiches, sides of cornbread dressing, bags of chips and cookies along with a to-go sauce of the guests' choice.
The family-owned restaurant brand is also offering a deluxe version of its new holiday box lunch option that includes an additional fan-favorite holiday side of southern-style green beans.
For mid-size gatherings of eight to 12, Dickey's is also offering a new ready-to-eat Holiday Big Yellow Box which comes with sliced turkey breast, cornbread dressing, gravy, baked potato casserole, green beans with bacon and a dozen buttery rolls.
Available for pickup and delivery throughout the holiday season from participating Dickey's locations, guests can enjoy these heat-and-eat options:
The Complete Feast – Choose from smoked turkey, prime rib, Cajun-fried turkey or spiral ham along with cornbread dressing, gravy, baked potato casserole, green beans with bacon and a dozen buttery rolls.
The Dinner Feast – Choose from smoked turkey, prime rib, Cajun-fried turkey or spiral ham along with cornbread dressing, gravy and a dozen buttery rolls.
À La Carte Menu – Order any of Dickey's slow smoked holiday meats of savory sides individually.
This year is anything but traditional and we want to do what we can to help make sure that all of our guests enjoy Thanksgiving without the added stress of having to cook. Our holiday feasts have always been a big hit and this year, we've debuted the Holiday Big Yellow Box, which is a delicious ready-to-eat option. Whether you're looking for delicious, high-quality sides, slow-smoked meats, or dessert, Dickey's is here to help!


– Laura Rea Dickey, CEO of Dickey's Barbecue Restaurants, Inc.
To place an order for a holiday feast from Dickey's, visit dickeys.com/quote/order-menu.
Dickey's can also tailor a catering menu for any event or occasion. Get a free quote at Dickeys.com or call a Catering Expert at 866-BARBECUE for details on holiday buffets for large events or the Holiday Big Yellow Box lunches for smaller events.

To learn more, follow Dickey's Franchise on Facebook, Instagram, and Twitter. Download the Dickey's Barbecue Pit app from the Apple App Store or Google Play.
Fuel to Fit Offers Healthy Thanksgiving Dinner Package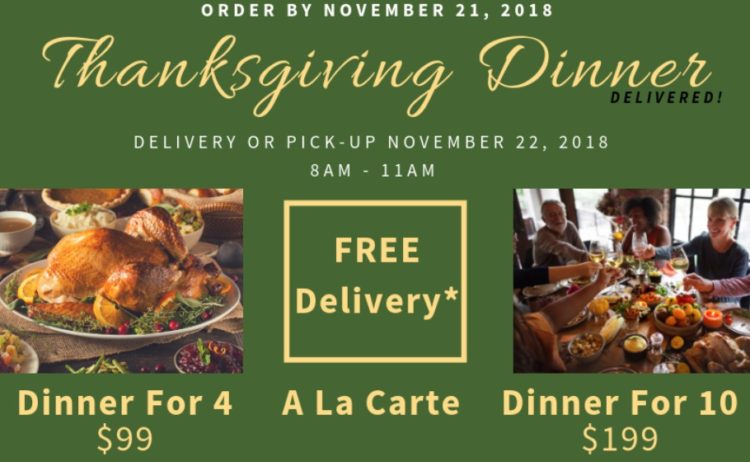 The holidays don't have to be the demise of healthy eating, and healthy eating can still be delicious!
Case in point? Fuel to Fit's Thanksgiving Dinner Meal Packages "stuffed" with homemade turkey day classics available for delivery or pick-up.
The Tempe-based healthy meal-prep company invites holiday hosts to simply set the table, and they'll do the rest with complete Thanksgiving Dinner Packages with service for four ($149) or 10 ($299) featuring turkey, homestyle stuffing, creamy mashed potatoes, green bean casserole, fresh cranberry sauce, roasted corn, gravy, rolls and a dessert duo including a combination of individualized pumpkin and apple pies with a side of whipped cream.
These holiday feast favorites can also be ordered a la carte (with service for four and 10); pricing is as follows:
Roasted Turkey, 3 pounds sliced, $29; 15-pound whole turkey, $79
Sides including Traditional Homestyle Stuffing, Creamy Mashed Potatoes, Green Bean Casserole, Fresh Cranberry Sauce, and Roasted Corn, $15/$25
Gravy, $6/$15
Rolls, $8/$15
Dessert Duo including a combination of personal-sized pumpkin and apple pies with a side of whipped cream, $15 for a six-pack;$25 for a 12-pack
Orders must be received by Friday, November 20. Delivery and pick-up is available on Wednesday, November 25 between 8:00 a.m. and 5:00 p.m. Free delivery is offered for orders more than $99. To order online or for more information, visit www.fueltofit.com.
Date: Pre-order now through Friday, November 20
Time: Pick-up and delivery between 8:00 a.m. and 5:00 p.m. November 25
Location: Fuel to Fit – 1900 E. Apache Blvd., Tempe 85281