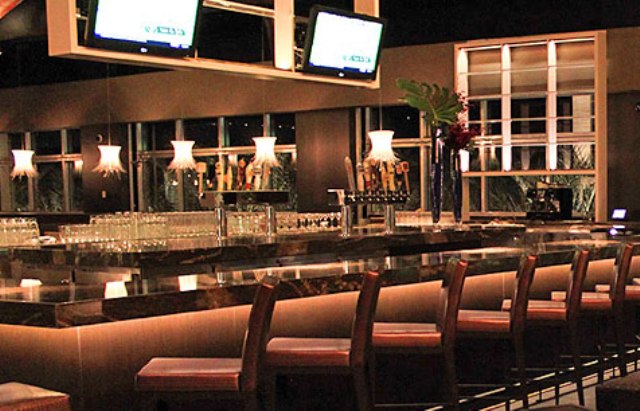 For some, a simple bag of buttered popcorn or a salt-coated soft pretzel is enough when it comes to movie theater fare–but not for the folks at Scottsdale Quarter. iPic Theaters opened on Dec. 17 and next door, on the second floor of Scottsdale Quarter, Tanzy Restaurant provides plenty of mouthwatering favorites to indulge in before or after taking part in the luxury movie-watching experience. With Valentine's Day approaching next month, this sounds like the perfect no-fail luxury date.
The lovely 8,000-sq.-ft. restaurant features a comfortable bar, window walls, gorgeous wrought-iron accents, warm woods and dramatic copper ceilings. To add even more oomph, Tanzy in Scottsdale has plenty of open-air dining and fire pits–perfect to cozy up to this time of the year. Tanzy also offers up scenic view of McDowell Mountains. To add even more eye candy, Scottsdale Quarter's Tanzy is home to a full-view open kitchen so guests can admire the mountains to one side and watch Chef Geoff Baumberger prepare meals to the other
Apart from beauty, Tanzy also has a delectable menu on its side. The Mediterranean-inspired menu consists of vegetarian and gluten-free options, sustainable fish dishes, homemade desserts and much more. A few menu items that we have our eyes on: the house-made mozzarella with basil pesto, roasted tomatoes and focaccia crostini; pan-seared polenta cake; crispy Brussels sprouts in a toasted cumin tempura with roasted garlic aoili and sweet pepper relish; revved up linguini and mussels with smoked chili flakes; mushroom risotto; tasty steak and lamb dishes; grilled pineapple-glazed swordfish sided with fingerling potatoes; braised beef short rib with Black Mission fig-balsamic glaze with pear raviolini in butter-sage sauce; and, for dessert, Nachos Dulce topped with habanero-honey drizzle, roasted pineapple and coconut foam.
To wash it all down, Tanzy's menu of fresh cocktails and boutique wines is just as impressive. Keep an eye out for the Spa-mopolitan made with Fair Trade hibiscus and organic ginger-infused hum, yuzu sour mix and house-infused cucumber-lime vodka and the mango-ginger-habanero daiquiri. And the wine list is conveniently broken down into categories like pretty, floral whites; buttery, busty whites; robust and zesty reds and bubbly so wine drinkers of any level can make an informed choice. There are more than 200 labels to choose from so the easier, the better. Check back soon to learn about our visit to Tanzy! Scottsdale Quarter's Tanzy Restaurant is open seven days a week from 11:30 a.m. to 11 p.m. 15257 N. Scottsdale Rd., Suite F-220, Scottsdale. 480.483.3255, http://www.tanzyrestaurant.com/.