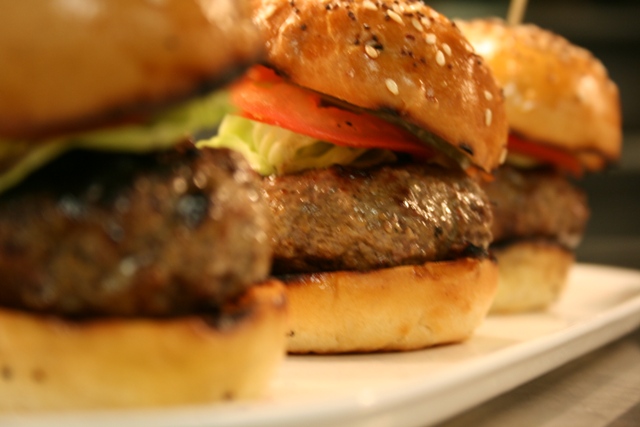 We know a good burger when we taste one. And Old Town's RnR can make one prime patty. First, RnR was awarded the top prize during this spring's 2013 Scottsdale Culinary Festival's Burger Battle. And, now, the Valley favorite is gearing up to get cookin' in the 2013 World Burger Championship.
Hosted in Las Vegas on Nov. 7 – 10, the restaurant's chef AJ Benga and the RnR team will go head-to-head with 49 other competitors from across the globe in this live. The 2013 World Burger Championship will be tournament-style cook-off–and $25,000 in prizes is at stake.
RnR was awarded a spot in the championship thanks to Chef Benga's Brussels Sprouts and Onion Jam Burger that won the 2013 Scottsdale Culinary Festival's Burger Battle this past April. (In fact, all future winners of the SCF Burger Battle will automatically be qualified for that year's World Burger Championship.) The mouthwatering burger is topped with spiced bacon, a sweet and savory onion jam, wilted Brussels sprouts and a raspberry demi-glace.
During the World Burger Championship, home cooks, restaurateurs and chefs will all compete. Within the two-hour cook time, competitors must produce two entries, or "builds," of approximately six burgers each, to showcase their culinary skills for the judges. The entries will be blind judged and evaluated on execution, appearance and taste.
Good luck, RnR! AZFoothills.com is rooting for you! www.worldfoodchampionships.com.
Check out some of our favorite burgers in the Valley here.