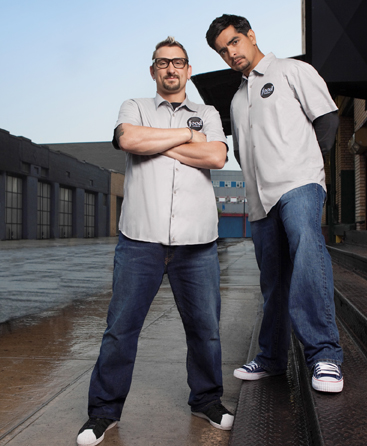 Longtime Valley favorite, Chandler's Rawhide Western Town and Steakhouse, is now a small-screen star. Rawhide will be featured on Food Network's second season of "Chefs vs. City" featuring Aaron Sanchez and Chris Cosentino. Rawhide is one of five local establishments featured in the "All-Star Phoenix" episode which airs Sunday evening. (As for the other restaurants, you'll just have to watch to find out who else is participating!)
In the upcoming episode, Duff Goldman and Geoffrey Manthorne from Ace Of Cakes will take on Sanchez and Cosentino in a series of five challenges, one of which was designed by Rawhide's chefs Jon Andersen and Michael Cairns. We're pretty sure Rawhide's rattlesnake will be featured among the challenges–guess we'll have to tune in to see!
About "Chefs vs. City"
This is the ultimate foodie tour. In each episode of "Chefs vs. City," Food Network chefs Aarón Sánchez and Chris Cosentino challenge two local foodies in an action-packed food adventure to locate that city's biggest, boldest, most unexpected food places. From wine stomping in Malibu, to eating the spiciest curry in all of NYC, to braving the coldest room in Las Vegas, "Chefs vs. City" will test the wits, guts, and skills of both teams as they race to the finish line.