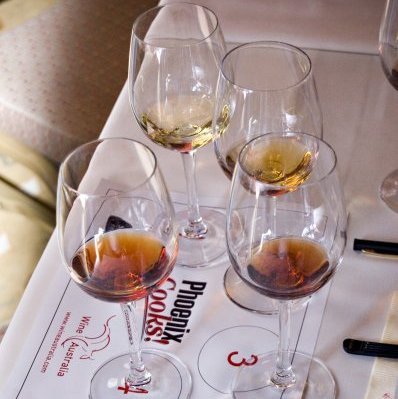 Let's look ahead to the weekend for a moment, shall we? On Saturday, Sept. 5, the 5th annual Phoenix Cooks! will take place at Westin Kierland Resort & Spa. At this annual event, the Valley's top chefs converge to strut their stuff on three interactive cooking stages, compete with one another with a mystery basket of ingredients, and take guests inside their kitchens to learn the secrets only the chefs know.
So, what should guests expect at Phoenix Cooks!?
-On the Dacor Two Chefs in a Kitchen Stage, watch Lee Hillson from the Royal Palms Resort and Spa compete against Michael Cairns from Urban Chefs. The stage is hosted by Ben & Matt from 102.5 KNIX Country.
-On the Viking Signature Stage, Michael Stebner from True Foods Kitchen shows the audience a True Foods taste or two. Hosted by Robin Miller, chef and Food Network Star.
-On the GE Monogram Stage, Michael Rusconi from LON's at The Hermosa Inn with have his artful American cuisine on display. Hosted by Melissa Sharpe from KYOT 95.5.
-Chef Peter DeRuvo will recharge your ravioli with his butternut squash ravioli in brown butter, sage and toasted hazelnuts.
-How do you pronounce gnocchi? Even if you can't pronounce it, you can learn how to make it. Chef Eric Howson from the Hyatt Regency Scottsdale will show guests step-by-step as he prepares homemade potato gnocchi with tomato jam and spicy apricots.
-The Alaskan Arctic comes to Arizona. Save yourself a trip to the North Pole by joining Jan D'Atri as she prepares a delectable dish of Alaskan salmon paired with Alaska beer.
Phoenix Cooks! chefs include: Beau MacMillan (elements at Sanctuary on Camelback Mountain), Lee Hillson (T. Cooks at The Royal Palms), Donald Lemperle (Asia de Cuba at The Mondrian), Chuck Wiley (Café Zu Zu at Hotel Valley Ho), Eric Howson (Hyatt Regency Scottsdale), Michael Rusconi (LON's at The Hermosa Inn), Tim Fields (Sushi Roku), Peter DeRuvo (Sassi), Shane Cox (The Greene House), Travis Watson (Avalon), Scott Tompkins (Skye), Mel Mecinas (Four Seasons), Todd Sicolo (The Arizona Biltmore), Victor Casanova (Il'Terrazo at The Phoenician), Todd Berry (The Westin Kierland), Roberto Madrid (Deseo at The Westin Kierland), Michael Cairns and Matt Alleshouse (Smith Hospitality) and many more.
To view a full listing of the Phoenix Cooks! stage and class schedules and to purchase tickets, visit www.phoenixcooks.com. Tickets are $75 per person in advance and $90 per person at the door, class and dine-around tickets are additional.