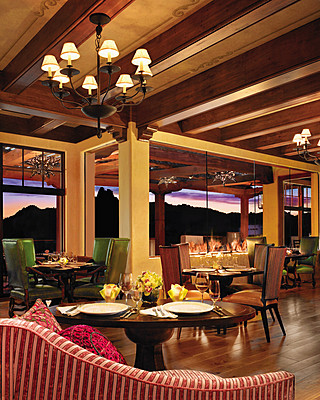 While the skiers and figure skaters are making their mark on Vancouver right now, I'm happy celebrating the Olympics with a specially themed menu at Talavera at Four Seasons Resort Scottsdale at Troon North. In the true spirit of the Olympic games, the resort restaurant will offer a Bronze, Silver and Gold tiered-tasting menu, sure to inspire any competitive palate. The three-course Bronze menu will retail for $48, the four-course Silver for $58 and five-course Gold for $68. The menus will span the globe, capturing the international essence of the Games, culminating in the five continents coming together under the five courses of the Gold menu.
Here's a peek at the Olympic menu offerings:
Asia
Kumamoto Oysters
lemongrass / ginger
Europe
Lobster
saffron pappardelle / asparagus / pearl onion
Africa
Antelope
hearts of palm / artichoke / mustard
Australia
Tamarind & Marmite Crusted Lamb Rack
roaring forties / potato / peas
Americas
Golden Apple Tart
Canadian whiskey snow cone
A Canadian whiskey snow cone? Yes, please. To reserve your spot, 480.513.5085. www.fourseasons.com/scottsdale.