On Sept. 1, what has been touted as the "best Fry's store in Arizona" opened in Scottsdale, at Shea and Tatum. And after getting a tour of the amazing re-opening, I can tell you that I have to agree. (The former Fry's store was expanded more than 30,000 square feet.) Fry's Signature Marketplace offers amenities to far exceed the regular grocery store-shopping experience, some of which the public has certainly never seen a Fry's store before. Just what can shoppers expect from the Fry's Signature Marketplace? Take a look.
-Fry's Fresh Attractions Cooking School staffed by Chef Travis Vierthaler and Chef Bob Winslow where guests can join in on hands-on classes from cake decorating, full-course elegant meals, floral arrangements and Saturday kids' classes.
-Wine cellar and bar featuring and serving the finest wines available
-Nature's Market featuring a large organic selection
-Tortillaria offering warm, fresh flour tortillas to take home and enjoy (these tortillas were incredible!)
-Foods from around the world and a sushi bar.
-A large Kosher Department that will feature a selection of appetizing and high-quality foods.
-Signature Bistro providing a gourmet experience that makes you want to return the very next day. Executive Chef Bob Winslow offers a delicious assortment of fresh prepared meals. Take it home or relax and enjoy with a glass of wine in our expanded outdoor seating area.
-Aged beef, American Kobe beef, grilling stations (meat and seafood).
-Fresh, quality seafood selection. Our selections are flown in fresh daily.
-Ethel M Chocolates.
-Dessert Shop offers more than 300 mouth-watering pastries, cookies, pies and cakes. (The cakes were truly something to behold. Gorgeous!)
-Organic produce.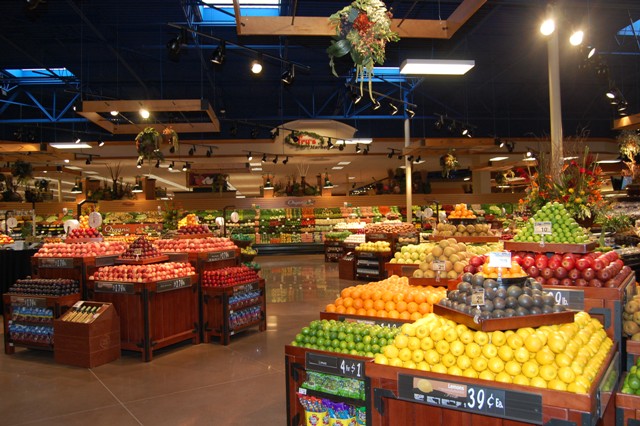 -Valet parking, covered parking, special outdoor security system and a Sharpshine Car Wash.
-Customized FTD Floral arrangements and gourmet baskets.
-Pet Zone with hundreds of new items including rawhide, dog and cat toys, leashes and more. Also, don't forget to check out the brand new pet food cooler.
-A deli featuring Boar's Head, special orders and of course, Fry's Famous Fresh Chicken.
-Starbucks Coffee Shop and organic juice bar.
-An expanded salad bar, olive bar and soup bar.
-Drive-thru pharmacy.
-Outdoor and indoor seating with large-screen TV and a fireplace for ambiance.
-Fred Meyer Jewelers is sure to dazzle all with its selection of fine jewelry.
-Delivery service available for pharmacy and floral orders.
-U.S. Bank
The new store will be open 24 hours/day. For it's opening week, the store is featuring specials and giveaway, so stop in soon. http://www.frysfood.com/.