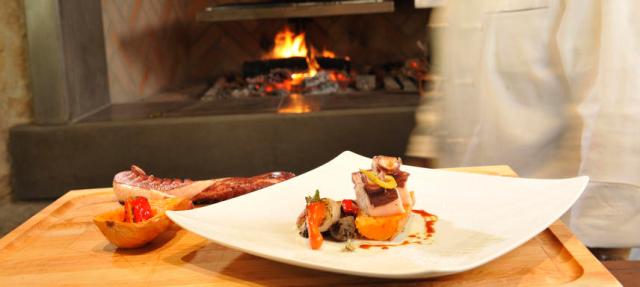 We could all use a little jazz in our lives–especially in the middle of the busy work week. Prado and Mbar at InterContinental Montelucia Resort & Spa has announced the kick-off of Jazz 'N the Plaza, a fall jazz concert series in partnership with Smooth Jazz 95.5 KYOT. Jazz 'N the Plaza will take place each Wednesday night from 6-8 p.m. through December 16 in the resort's Cortijo Plaza just outside Prado and Mbar and will feature a new jazz performance each week. The concerts are free and open to the public, seating is on a first come, first serve basis, and delicious tapas and drinks will be available for $5. www.icmontelucia.com.
(Guests can even enter for the chance to win a two-night stay in a suite at InterContinental New Orleans, the birthplace of jazz.)
A complete schedule of performances:
October 14 – Will Donato
Coming off a successful summer tour for his new CD, "Laws of Attraction," charismatic saxman and Innervision Recording artist Will Donato continues to prove why he is one of Groove Jazz's ultimate showman and performers. With his high energy mix of urban grooves and contemporary jazz, Will Donator is well- known for celebrating and interacting with his audiences and fans. New Jazz radio refers to Will Donato as a "Must See Artist."
October 21 – Pete Pancrazi
Pete Pancranzi has a large and loyal following and was recently named by Downbeat Magazine as "one to watch" and a guitar player "deserving greater attention." Audiences in Arizona voted him the "Jazz Guitar Player of the Year" in AzJass Magazine's 2000 Reader's Poll. He continuously delights audiences with his growing repertoire of original compositions, presented in performance alongside straight-ahead and Latin jazz standards.
October 28 – Dominic Amato
Dominic Amato was a musician from a young age, devoting his time to practicing on drums, piano andvarious woodwind instruments. Ultimately Dominic would study under world-renowned saxophonist, Eric Marienthal whose direction led to Dominic's signature sound on the sax. Dominic's influences include greats like Miles Davis, John Coltrane, David Sanborn and James Brown.
November 11 – Alice Tatum
Alice Tatum has been a fixture in the Phoenix music scene for nearly 30 years. She is an award- winning and critically acclaimed singer, regularly performing with her talented trio or quartet. Alice has played alongside such greats as Michael McDonald, Tom Scott, The Righteous Brothers, Bonnie Raitt, Alice Cooper and Nancy Wilson. She has also worked with producer giant Don Costa as well as entertainers Flip Wilson, Paul Anka and Merv Griffin.
November 18 – Matt Marshak
Matt Marshak's live shows overflow with passion, energy, crowd interaction and intensity, as the guitarist throws a series of blues, rock, soul and jazz licks. Now, one of the freshest faces on the contemporary jazz scene has captured the flavor of his popular live shows with his fourth major release, The Family Funktion. The 12 song CD builds upon Marshak's ever-growing recognition that led the influential CD 101.9 radio station in New York to name him one of the best new smooth-jazz artists and for JazzTimes, the bible of the jazz industry, to shower his previous two CDs with glowing reviews.
December 2 – Stan Sorenson
Stan Sorenson has performed locally and internationally, working with such greats as Nancy Wilson, Jimmy Smith, Rosemary Clooney, Vic Damone, Jeffrey Osborne, The Fifth Dimension and many others. Stan's various jazz ensembles have performed at numerous festivals and have opened for Ella Fitzgerald, Burt Bacharach, David Benoit, Ray Charles and others in his long and varied career. Stan has played in the orchestras for many professional touring-company Broadway style musicals including Zorba the Greek (starring Anthony Quinn), Annie, 42nd Street, A Chorus Line, Aida and Hairspray.
December 9 – Vegas, Baby Trio
Bringing the vocal stylings of Frank, Dean, Bobby Darin and Harry Connick Jr. all wrapped into one, Dominic comes to us by way of San Francisco, New York and most recently Salt Lake City. Raised in a home full of jazz music and trained in Theater Arts, he embodies the sounds and swagger of the Rat Pack era, making every day feel like a night in Vegas.
December 16 – Shilts
Paul "Shilts" Weimerhails from London, England and has been playing saxophone since his early teens. He is highly regarded for his soulful, funky saxophone style and his career has spanned all forms of jazz, soul and pop music, and he has toured all over the world and recorded with a host of international artists. Recently Paul was front-man and Bandleader of greatly successful British urban jazz funk export 'Down to the Bone" which has released seven albums of with Paul is heavily featured.