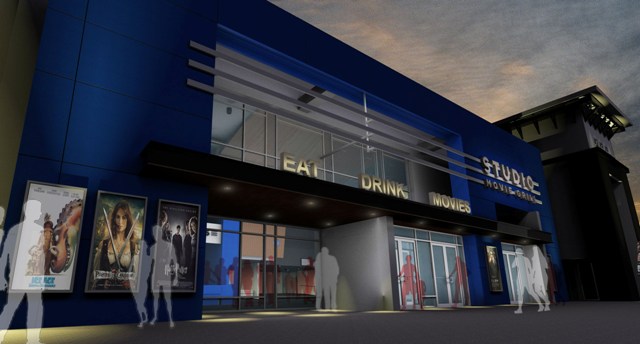 Dine-in movie theaters are becoming a popular attraction in the Valley, and the soon-to-open Studio Movie Grill is right on trend as it opens its first Arizona location (and sixth outpost in the nation; other locations are in Texas including Arlington, Dallas/Royal, Lewisville and Plano, as well as two locations in Houston: City Center and Copperfield in northwest Houston). Studio Movie Grill is slated to open at 15515 N. Hayden Rd., just south of Frank Lloyd Wright Blvd., in North Scottsdale's newly enhanced Sonora Village.
Scottsdale's new Studio Movie Grill will be a 40,000-sq.-ft., nine-screen, upscale theatre with spacious, comfortable leather recliners and cozy dining tables. Guests are invited to indulge before and after their theatre experience at a central bar that will serve premium liquors and specialty drinks. Studio Movie Grill has a delicious offering for just about every taste, boasting a menu with more than 100 different food and beverage items, ranging from made-to-order loaded hamburgers to healthy salads, combined with an extensive bar offering draft beer, premium wines and spirits.
Studio Movie Grill offers tickets starting at $5 for general admission, as well as reserved seating. For ensure that guests receive the best movie-going experience, the Scottsdale theater will have a superior Dolby 3D system and the latest in Dolby Digital technology to enhance the viewing experience. In addition to first-run movies, Studio Movie Grill offers alternate programming that includes 3D concerts, limited release films, family-friendly cost-effective programming, original series, documentaries and screenings for families raising children with special needs. http://www.studiomoviegrill.com/.