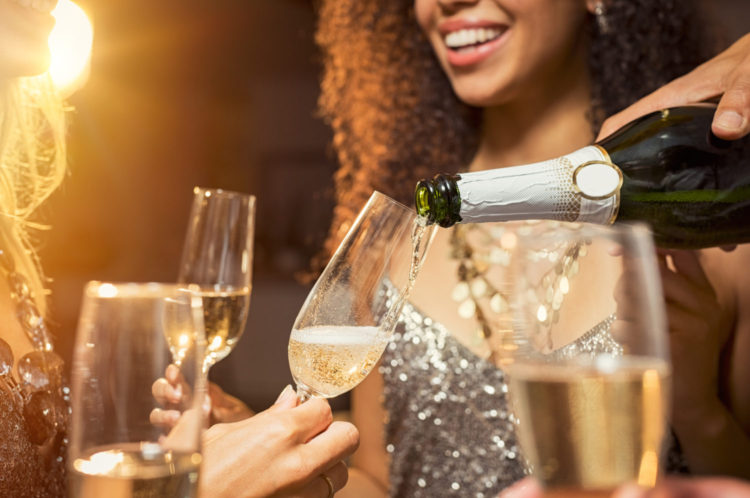 New Year's Eve at Roaring Fork
Toast to another year with a delicious meal at Roaring Fork this New Year's Eve, Thursday, December 31st beginning at 4:00 p.m. Executive Chef Israel Medina will be cooking up a specialty Lobster and Steak offering in addition to seasonal menu items available that evening only.
Guests are welcomed by the warm, rotisserie fire and the outdoor fireplace while indulging in signature menu items such as the Wood Grilled Premium Center Cut 8oz Filet Mignon; Sugar Cured Duck Breast; Braised Beef Short Ribs; Double-Cut Pork Chop and Cedar Planked Salmon.
Toast with the crowd favorite — a huckleberry margarita— a classic martini, Manhattan, or a glass of wine.
Roaring Fork's Wood Fired Cooking captures the spirit of bold American cuisine, creating flavors that crackle with a rugged edge. In the Old West, the best food was prepared on a simple wood fire.
This same spirit, freshness, and flavor are at the heart of every dish served at Roaring Fork. Select from lamb, chicken, beef, pork, and fresh fish entrees all perfectly prepared by wood fire rotisserie, open flame grill, or wood oven roasting.
Steak & Lobster $62.00; a la carte menu items vary
For reservations please call (480) 947-0795 or visit the website at www.roaringfork.com
Kelly's at SouthBridge
Kelly's at SouthBridge is your destination for socially-distant New Year's Eve celebrations in Old Town Scottsdale this year! With ample space for guests to ring in 2021 responsibly, Kelly's at SouthBridge welcomes guests to reserve a table, couch, or private lounge area and enjoy dinner, bottle service, or try our limited edition Holiday Dessert Martini Flight!
Take in a direct view of this year's Scottsdazzle holiday decor + festivities, enjoy music and countdown by DJ RoleModel from 9pm-2am, and take your pick of 6 personal lounge areas, 3 private rooms, and 2 spacious heated patios. No cover. Reservations are highly encouraged as we are currently operating at 50% capacity. Limit 10 per party. Bottle service minimums vary!
Date: Thursday, December 31st, 9pm-2 am
Location: Kelly's at SouthBridge
7117 E. Sixth Avenue
Scottsdale, AZ 85251
(480) 393-3205
Reservations: To reserve a table, private room, lounge, or bottle service call (480) 393-3205 or email estephansen@kellyssoutbridge.net.
Rusconi's American Kitchen
On Thursday, December 31, Rusconi's is ringing in the New Year (and happily saying farewell to 2020!) with a special three-course menu including:
First Course, choice of:
-Warm Goat Cheese with Taylor Farms Baby Greens with pomegranate dressing, grilled apples, and toasted pine nuts
Lobster Bisque withhouse made crema and Desert Sweet shrimp
Blue Crab and Shrimp Cake with frisée and roasted corn salad, and lobster butter sauce
Fennel Smoked Salmon with Semolina Pancakes and Tiny roquette with roasted pepper crème fraiche, crisp capers, tomatoes and onion
Duck Cannelloni with kabocha squash puree and five spice sauce
Braised Beef Short Rib with Cabernet Sauce with maple scented sweet potato puree and crispy parsnips
Entree, choice of:
Florida Grouper with Michael's home-grown Meyer lemon butter sauce with heirloom potatoes, braised fennel, and cured tomatoes
Garlic and Herb-crusted Rack of Lamb with grilled vegetable ratatouille, corn crepe, and basil pesto
Open-faced Butternut Squash Ravioli with wilted baby spinach, chef's whim vegetables and carrot jus
Roasted Pork Tenderloin with Pomegranate Glaze with spaghetti squash, small green beans and apple jus
Grilled Tenderloin of Beef and Blue Crab with lemon emulsion, goat cheese grits, baby carrots and red wine gastrique
Dessert, choice of:
Ghirardelli Chocolate Torte with toasted meringue, vanilla and berry sauce
Strawberry and Coconut Panna Cotta with kiwi relish, mango and berry sauce
Bananas Foster Crème Brûlée with salted caramel and toasted coconut
Cost is $75 per person, plus tax and gratuity. Reservations can be made by calling (480) 483-0009 or via www.rusconiskitchen.com.
Date: December 24 and December 31
Time: 5:00 p.m.-9:00 p.m.
Peacock Wine Bar
Peacock Wine Bar in Gilbert is offering a special New Year's Eve Package to-go for those wanting to celebrate at home this year. For $50, enjoy a bottle of bubbles, a signature Peacock (charcuterie) board, a chocolate flight, hats and blowers.
You can also add on an additional bottle or board for $15 each. Orders must be placed by December 29th for pick up on December 31st between 12-4 PM at Peacock Wine Bar.
Curbside pickup is available. www.peacockwinebar.com
PHX Beer Co.
Dine local with the option to eat in or takeout this New Year's Eve! PHX Beer Co.'s Scottsdale location is offering a four course pairing dinner for two nights—there is even a vegetarian option.
Available after 4 p.m. December 31st and January 1st (with limited seating) the specialty menu can be ordered to-go as well. Reservations are recommended. The pre-fixe menu is $55 per person (plus tax and gratuity). Options include:
1st Course: Sonoran Shrimp Ceviche (Tiger shrimp, tomato, shallot, cilantro, fermented jalapeno and sweet chili chips) paired with PHX Beer Co.'s IPA.
2nd Course: Fire Roasted Carrots (Jalapeño cilantro hummus, labneh, sesame crumble, micro cilantro and salsa verde) paired with Barrel-Aged Morenci Copper Ale.
3rd Course: Braised Short Ribs (Boneless Short Rib, cauliflower puree, tobacco onions, barley wine demi-glace) paired with Barrel Aged Barley Wine.
4th Course: "The Best Ever" Chocolate Mousse (Mousse infused with caramelized banana and peanut butter, almond coconut streusel, salted Mythic Climber Stout caramel) paired with Mythic Climber Coffee and Cream Stout.
Vegetarian Menu:
1st Course: Blistered Avocado (Large Hass avocado stuffed with quinoa, turtle beans, smoked pepitas, sweet corn, cucumber, IPA pickled Fresno, roasted garlic, shallot, mint and cilantro) paired with Arizona Gold.
2nd Course: Fire Roasted Carrots (Jalapeño cilantro hummus, labneh, sesame crumble, micro cilantro and salsa verde) paired with Barrel-Aged Morenci Copper Ale.
3rd Course: Ale House Stacked Enchiladas (Fricassee of corn, black beans, peppadew, tomato, radish, sweet onion and garlic served between warm Mazina tortillas and finished with a house-made verde mole, cilantro) paired with PHX Beer Co.'s IPA.
4th Course: "The Best Ever" Chocolate Mousse (Mousse infused with caramelized banana and peanut butter, almond coconut streusel, salted Mythic Climber Stout caramel) paired with Mythic Climber Coffee and Cream Stout.
If carry-out, the meals do include a 32 oz crowler of select beers (in place of the alcohol pairings per course).
Those looking to reserve a space can call 480-571-8645 or visit the location to make a reservation. PHX Beer Co. uses fresh ingredients to bring the city to you, whether you're touring their downtown Phoenix brewery, visiting its taproom, grabbing a scratch bite from the Scottsdale restaurant or shopping the aisles of your local grocery.
PHX Beer Co. was created by a team of local entrepreneurs and industry veterans to ignite the craft beer scene. The Scottsdale restaurant is located at Mercado del Lago, 8300 N. Hayden Rd., in the McCormick Ranch neighborhood.
For more information, visit phxbeerco.com.
Nook Kitchen Arcadia
Nook Kitchen in Arcadia, led by ever-popular CHOPPED Champion Chef Nick LaRosa, treats patrons this holiday season with festive food and drink options. 
Kids Eat Free Wednesday & Thursday; Sunday Family Pasta Night with $5 off pasta dishes; Gift card promotion; and festive food & drinks.
Experience the joy of partaking in the premium cuisine of Chef Nick LaRosa!
New Year's Eve 3-Course Dinner – $65 per person.
· Brussels Chips. Maple bacon aioli
· Arancini. Risotto, house-pulled mozzarella, pomodoro, parmesan, balsamic reduction.
· Grilled Espresso rubbed Prime Fillet. Herbed fingerling potatoes, Gastrique glazed parsnips, truffle cream.
· Pan Seared Scallops. White chocolate cream, acorn squash, Brussel chips, Calabrian chilies, basil oil, edible flowers.
· Signature Cocktails of Choice. Chai Saw Mommy Kissing Santa Claus. Chai Tea Infused Vodka, Ramazzotti Amaro, Fig Syrup, Fresh Lime Juice, Ginger Beer Foam, Nutmeg, Candied Ginger.
·   Affogato. House-made Chocolate Budino, Stracciatella, Espresso. 
Cooper's Hawk Winery and Restaurant
Being their 44th location in the U.S., and the first in Arizona (with a second location slated to open in Chandler in 2021) – they are in the spirit and excited to share their easy approach to wine and fine dining to the Valley. 
With over 60 wines to be sampled in their Napa Style Tasting room and exquisite food coming their scratch kitchen – Cooper's Hawk is creating a buzz here in Arizona. 
The virtual NYE event The New Cheers Eve is a cool concept – and one where participants can say goodbye to 2020 from the comfort and safety of their homes!  
December 31st at 6 pm CST.
The event will be approximately 60 minutes and Emily Wines (Master Sommelier), Tim McEnery (CEO & Founder) and Chef Matt McMillin (Executive Chef), will be hosting.
There are limited availabilities for the heat and serve the meal ($139.99, serves 2).
Guests can reserve a space by calling the restaurant. 
Guests can come to pick up their meal kits before the event and Cooper's Hawk will provide them with all of the instructions so that they can reheat and plate the meals and enjoy them in the comfort of their own home.
Dog Haus New Year's Day
While most try to start the new year off with a fresh start, many will end up kicking 2021 off with a nasty hangover – but Dog Haus has the cure!
On New Year's Day (also National Hangover Day), stop by your preferred Dog Haus location and indulge in a Hangover Burger and 16 oz. PBR can for just $5.99! This hearty dish – composed of white American cheese, smoked bacon, haus chili, a fried egg, and mayo – will get you right back on your feet after a wild night out.
*Available for takeout or dine-in orders (where available) at participating Dog Haus locations on January 1, 2021. No additions or substitutions except a fountain drink for a PBR 16oz can. While supplies last.